---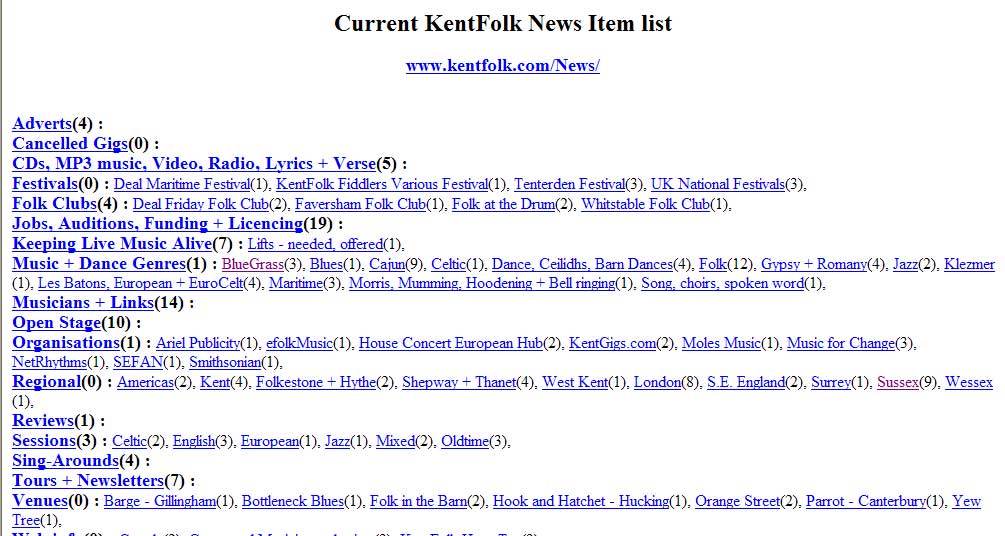 Here is a new compact direct-access Contents list for the News pages : www.kentfolk.com/News/contents.html
Total number of Current Month's News Items : 417
Is this new contents list page of any use to you ? ... Would you like it emailed to you ? Or the full index ?

Hi, KentFolk now has a Facebook presence; see :
www.facebook.com/pages/KentFolk/290937071592

---

Em Peasgood, Andee Price and friends having a great time making music and singing at Deco 5, Whitstable - the edited photos, together with 3 video tracks, are now up on KentFolk gig-reports : www.kentfolk.com/gig_reports/2010/2010-04-22_Em-Peasgood%2Bfriends_Deco5_Whitstable/

---

Kentish fiddler lass Laura Target (now in Aus) has just released a CD, available as CD or as downloads :
LAURA TARGETT AND CLEIS PEARCE - WILD STRINGS
www.vitamin.net.au/Laura%20Targett%20and%20Cleis%20Pearce/Wild%20Strings/albumdefault.asp?ai=359&album=Wild_Strings&artist=Laura_Targett_and_Cleis_Pearce
9 track download $Aus 16, approx £10

Dual fiddles, a very exciting and rich sound, with plucked and bowed strings, and really interesting and original compositions reflecting their hemisphere - this is what I have been waiting for Laura to bring back to us.

---
Save the BBC: stop the cuts !

The BBC is considering sweeping cuts, chopping its website in half and dropping TV and radio stations... all to appease corporate media rivals.
Sign the following petitions to keep the BBC strong!
KentFolk has started a petition to the Prime Minister :
petitions.number10.gov.uk/Strengthen-BBC/ The petition to the Prime Minister reads:
We the undersigned petition the Prime Minister to Ensure that there is a funding mechanism so that the BBC is strengthened, not cut, so that it remains a strong and independent organisation capable of delivering advertisement free quality news, documentaries and music, for both majority and minority interests, by radio, TV and the web/internet.

More Details :
BBC documentaries, music programs and news reporting are of a remarkably high standard on a world basis, and form part of what it is to be British. We don't want to start losing this.

The BBC is considering sweeping cuts, chopping its website in half and dropping TV and radio stations... all to appease corporate media rivals. Instead we want the BBC to become able to deliver even more of its high quality programming, to represent fully the interests of all parts of the British community, to be able to go confidently forward with its digital radio and TV, to instigate yet more high quality music (classical, modern and folk), and to keep developing and exploiting the potential offered by the web and internet.

If you have a spare hour, read the report of the BBC Director General, Mark Thompson, and its critique by the BBC Trust (65 pages in all) : strategic_review.pdf
Either way, give your views of what you think at the : consultation.

---

KentFolk's first Bluegrass evening went well ...
(click on the photo below to go to the rest of the photos) :
The Boathouse - Grove Ferry Inn, 2010.



Well, the first of the KentFolk Bluegrass / Southern` / Old-Time / Appalachian / Cajun gigs in the East of Kent went quite well, at least for a first gig - See the above gig photo report and review.
The aim, if it goes well, will be to make happen various quality items of music with genres from the States - and yes, there will often be a fiddle in the mix somewhere.
The first few gigs I am targeting for the third Friday of the month, starting this month in February - but March was already oversubscribed with gigs, so we skipped March and continue in April, with a headline gig in May (on the 3rd Saturday) -
I was heartened by the reponse to the first gig, so in May I have a booking for Allison Williams (clawhammer banjo, vocals) & Chance McCoy (fiddle, banjo, vocals), who will be over touring from the Southern States. On their 2009 tour they played the London Barbican; Chance has played the Kennedy Centre and Carnegie Hall.
So the next gigs are :
16th April 2010 (3rd Friday) - KentFolk Bluegrass, A Band Like Alice - London 5-piece bluegrass with Bob Winquist on fiddle. £8 www.wegottickets.com/event/71358
22nd May 2010 (3rd Saturday) - KentFolk Bluegrass, Allison Williams & Chance McCoy, from the Southern USA. £10 www.wegottickets.com/event/73504
Both gigs in : The Boathouse, Grove Ferry Inn, Grove Road, Upstreet, Nr. Canterbury, Kent. CT3 4BP For more info, map, etc. see : www.kentfolk.com/bluegrass
---

Oh, also under the heading of Old Time music, the London fiddler Pete Cooper has just released an excellent book and CD :
"American Old Time Fiddle Tunes" - 98 traditional Pieces for the Violin.
KentFolk managed to obtain a review copy, and I have uploaded my review of this excellent resource to :
2010_Pete-Cooper_American_Old_Time_Fiddle_Tunes .
---

If like me you have looked at the wonderful collections of instruments on display in places like Venice, and wondered if we had any such displays in England, well the answer is that we do, in the V&A, but they are often just locked up, and the plan is to take them off display permanently :



From: "john Byng" jbyng_at_btinternet_dot_com
Date: 28 January 2010 01:31:56 GMT
Subject: FW: V & A Instrument Collection

I have three times tried to visit the musical instruments collection at the V&A and it has been closed. It seems that room 40 is always the one to be closed when there are too few staff. This is bound to have impacted upon visitor numbers to the collection and may explain why the museum want to replace it. It is also noticeable that the V&A web site gives no prominence to the collection.

As you may already know, the V &A are planning to put their extensive collection of historic musical instruments, currently on display in Room 40, into storage, to facilitate redesigning the gallery to show the museum's fashion collection.

Although instruments have been part of the collection since the museum's inception, there are no plans to reinstate the collection at any future date, and it appears that it will either be broken up or be confined to spaces which are not open to the public. Full details can be found in the 16 January 2010 edition of Classical Music (page 7).

A petition has opened today (19.01.10) on the 10 Downing St website. Please do add your name if you would like to register your regret at this action., by following the link below.

petitions.number10.gov.uk/VandAchange/
---

A KentFolk iGoogle Gadget that you might find useful if you have an iGoogle home page :
Want rapid access to info on the Kentish music scene ?
Add "KentFolk.com for Live Music in Kent" to your iGoogle page.
Click on the [+Google] button to add this KentFolk Gadget to your iGoogle homepage.
It will help take you into the depths of the KentFolk site, hopefully directly to the pages most relevant to your interests.
Scroll down on the Gadget to see the latest news item high-lights, without even having to leave your iGoogle home page.
---
Multi-level directories of News :
Do keep sending me items for both the calendar and this news section -
Please see the info at the bottom of the news pages for guidance as to good formats to send me news items for these pages - large .jpg files are not easy to use - and also for suitable formats for event listings for the calendars.
cheers, Beau.
---

Adverts
......| 2009-08-01 - Woodchurch Morris Men.txt
......| 2010-01-07 - Entertainment - for fetes etc.htm
......| 2010-02-27 - Ten Years of Great Music Writing 2000-2010.htm
......| 2010-03-17 - Tim Edey Latest News - Isobel Crowe - Singing lessons.txt
......| 2010-04-06 - Tascam FW1884 Production Studio - Massive Price Drop - Last Chance to Buy!.htm
......| 2010-04-08 - Advertising in fRoots June edition R.htm
......| 2010-04-08 - Journal of Music - The X Factor why music is the winner.htm
......| 2010-04-15 - Advertising in fRoots June edition deadline! (R).htm
......| 2010-04-23 - Jackson Guitars Competition - Win a Jackson JS30RR Electric Guitar!.htm
......| 2010-05-05 - Stagepas 300 Only 449 Inc FREE Stands and Carry Bag - Great Deals From Dolphin.htm
......| SEFAN 2010-03-01_01 Piano urgently needs Home! ... currently in Littlebourne Kent.htm
Cancelled Gigs
......| 2010-04-07 - Royal Oak Irish session cancelled - Friday 30th April 2010.htm
......| 2010-04-21 - LONNIE DONEGAN BAND - REARRANGED DATE.htm
......| 2010-04-23 - SCoFFnews saturday Concert Cancelled.htm
......| 2010-05-06_Royal Oak - volcanic ash cancellation.txt
CDs, MP3 music, Video, Radio, Lyrics + Verse
......| 2010-03-08 - CDs by Canterbury based singer-songwriter Sarah Reed.htm
......| 2010-03-12 - Krista and the Bubble Band - CD.txt
......| 2010-04-04 - Pete Fyfe - Review.htm
......| 2010-04-06 - Pete Fyfe - Live Review and attached photo.htm
......| 2010-04-08 - Pete Fyfe - Review Photo.htm
......| 2010-04-08 - Pete Fyfe - Review Sleeve.htm
......| 2010-04-08 - Save BBC 6music BBC Asian Network Campaign Update.txt
......| 2010-04-14 - Pete Fyfe - Review Sleeve.htm
......| 2010-04-17 - Laura Targett - New fiddle CD.txt
......| 2010-04-18 - SG Records Incoming News.htm
......| 2010-04-21 - Pete Fyfe - Review Photo attached.htm
......| 2010-04-23 - Worlds of Trad Upload May 2010.htm
......| 2010-04-26 - Pete Fyfe - Review Sleeve.htm
......| 2010-04-26a - Pete Fyfe - Review+ Sleeve.htm
......| 2010-05-01 - Pete Fyfe - Review + Sleeve.htm
......| 2010-05-01b - Pete Fyfe - Review + Sleeve.htm
......| Kentish Hops - Book and CD.htm
......| Kentish musician's MP3 Tracks and Digital Albums for sale at eFolkMusic.html
......| SEFAN 2010-04-21_02 Folk + Jazz on the BBC.htm
......| SEFAN 2010-04-24_01 Garry+ Rose Blakeleys THE CEREMONY OF MAY.htm
......| Simon Evans - BBC Radio Kent - listen at any time.html
Festivals
......| 2010-05-05 - 2010 Frank Harte Festival Programme.mht
......| Broadstairs Folk Week
......| ......| News from Keith Kendrick - via Facebook.txt
......| ......| News from Krista Bubble (fiddle) and also Bubble Band - via Facebook.txt
......| Canterbury Festival
......| Deal Festival of Music and the Arts
......| Deal Maritime Festival
......| ......| Deal LifeBoat House shanty singing - 2003 - MP3 downloads available.txt
......| Faversham Hop Festival
......| KentFolk Fiddlers Various Festival
......| ......| Tommy Peoples photo report - London, Lewes and Littlebourne - September 2009.html
......| Other Kentish Festivals
......| ......| 2010-03-04 - Tilmanstone - NEW FESTIVAL.htm
......| ......| 2010-04-20 - Folk Ale.txt
......| Rochester Sweeps Festival
......| SEFAN 2010-03-12_02 Black Horse Festival 2010.htm
......| Tenterden Festival
......| ......| 2010-02-04 - TWO NEWS ITEMS RE FOLK IN TENTERDEN.htm
......| ......| 2010-02-14 - Programme advert price list 2010.pdf
......| ......| 2010-02-14 - Your chance to advertise in our 2010 programme.htm
......| ......| SEFAN 2010-02-16_01 Two Items from Tenterden Folk Festival Folk Club. Kent.htm
......| UK National Festivals
......| ......| 2010-01-20 - Oxford May Music Festival 28th April - 3rd May 2010.htm
......| ......| 2010-04-28 - New folk music Festival site that may interest you.htm
......| ......| SEFAN 2010-02-10_01 Crawley Folk Festival 2010 - On Sale Now!.htm
......| ......| SEFAN 2010-04-14_01 Crawley Folk Festival 2010 Headliners.htm
......| Wye Fayre
Folk Clubs
......| 2009-07-28 - New folk club - Boughton Monchelsea.htm
......| 2010-02-04 - Sheppey Folk and Blues Club News!.htm
......| 2010-03-03 - Crabble - March April and May.htm
......| 2010-04-22 - CRABBLE FOLK SUPPER 30 APR 10.htm
......| Deal Friday Folk Club
......| ......| 2010-01-20 - Deal Folk Club - Feb March.htm
......| ......| 2010-03-03 - Deal FC - April and May.htm
......| Egerton Folk Club.htm
......| Faversham Folk Club
......| ......| 2010-02-28 - Faversham Folk Club General Listings for March, April and May.htm
......| ......| 2010-04-13 - General listings from Faversham Folk Club.htm
......| ......| 2010-05-04 - Bob Kenward Faversham Folk Club Wed 26th May.htm
......| Folk at the Drum
......| ......| 2010-03-03 - Folk at the Drum - April and May.htm
......| ......| 2010-03-16 - GUEST NIGHT - 18 MAR 10 - DICK MILES.htm
......| ......| 2010-04-13 - Re LOCTUP TOGETHER AT THE DRUM 15 APR 10 Fw St George's Day -23 April .htm
......| Monthly_Folk-Club_list.html
......| Tenterden Folk Club at The Woolpack.htm
......| Walthamstow Folk Club
......| ......| 2010-03-18 - Walthamstow Folk Club is now on Twitter!.htm
......| ......| 2010-04-21 - Walthamstow Folk - Sunday 25th April, 2010.htm
......| Whitstable Folk Club
......| ......| 2009-02-11 - Find Whitstable Folk Club on Team.KentFolk.htm
Graphics
Jobs, Auditions, Funding + Licencing
......| 2008-12-29 - The Licensing Act 2003 is destroying live music in Kent.html
......| 2009-01-19 - The Publican - Home - Pubs closing at rate of 39 per week.htm
......| 2009-01-20 - Licensing enquiry - Loss of live music - our ref +++570.txt
......| 2009-07-28 - SCoFFnews Petition to No 10.htm
......| 2009-08-03 - LIVE MUSIC LICENSING.htm
......| 2010-01-05_Consultative-document_exempt_small-live-musicevents.pdf
......| 2010-01-05_Licensing Exemption discussion.txt
......| 2010-01-05_Licensing_Exemption_discussion.html
......| 2010-01-07_Licencing_Exemption_discussion-continued.html
......| 2010-05-06 - The Green Room Summer Theatre School.html
......| GigList_DateCount.pdf
......| Public Entertainment Licensing Act (2003) - prior news items.txt
......| SEFAN 2008-03-24_03 IMPORTANT Certificate of Sponsorship (CoS).htm
......| SEFAN 2009-07-10_03 The Event Safety Guide (The Purple Guide).htm
......| SEFAN 2010-01-29_02 V A Instrument Collection Petition.htm
......| SEFAN 2010-04-01_02 GLEANING Call Out.htm
......| SEFAN 2010-04-08_02 GLEANINGS from ArtsJobs and VAE.htm
......| SEFAN 2010-04-09_02 Free Business Consultation Sessions for member groups Sat 8 May Maidstone.htm
......| SEFAN 2010-04-15_02 GLEANINGS Artjobs and VAE.htm
......| SEFAN 2010-04-25_01 CALL OUT + GLEANINGS from Artsjobs .htm
......| SEFAN 2010-04-27_03 GLEANING from ArtsJobs.htm
......| SEFAN 2010-05-05_02 News and Gleanings Bulletin.htm
......| SEFAN 2010-05-06_02 Making Music ebulletin.htm
......| The Licensing Act 2003 is destroying live music in Kent.html
Keeping Live Music Alive
......| 00 - 2009-01-22 - Keeping the Live Music Alive.htm
......| 01 - 2008-12-29 - The Licensing Act 2003 is destroying live music in Kent.html
......| 02 - 2008-12-29 - GigList_DateCount.pdf
......| 19 - SEFAN 2008-12-03_03 actionformusic Form 696 - E Petition.htm
......| 2009-01-20 - Licensing enquiry - Loss of live music - our ref +++570.txt
......| 2009-02-07 - Governments proposed - Code of Practise - for pubs.htm
......| 2009-03-28 - RE How to get more live music in the pubs ! Kentish Gazette, 26th March 2009.htm
......| 2009-07-28 - SCoFFnews Petition to No 10.htm
......| Lifts - needed, offered
......| ......| 2009-02-16 - lift needed - Deal or Dover to the Drum, North Stansted, any Thursday.txt
Music + Dance Genres
......| BlueGrass + Old Time
......| ......| 2010-01-31 - KentFolk Friday Bluegrass in East Kent.html
......| ......| 2010-04-07 - South East England Bluegrass + Old-Time Music .htm
......| ......| 2010-04-08 - FOAOTMAD mailout 8th April.htm
......| ......| 2010-04-09 - Bluegrass Extra.htm
......| ......| 2010-04-09 - mailout extra (UK only).htm
......| ......| 2010-04-14 - South East England Bluegrass + Old-Time Music .htm
......| ......| 2010-04-15 - FOAOTMAD mailout 15th April.htm
......| ......| 2010-04-21 - South East England Bluegrass Old-Time Music .htm
......| ......| 2010-04-23 - FOAOTMAD mailout 22nd April.htm
......| ......| 2010-04-23 - Bluegrass Extra.htm
......| ......| 2010-04-27 - South East England Bluegrass + Old-Time Music .htm
......| ......| 2010-04-29 - BLUEGRASS + OLD TIME EXTRA.htm
......| ......| 2010-05-05 - BLUEGRASS EXTRA.htm
......| ......| 2010-05-05 - FOAOTMAD mailout 5th May.htm
......| ......| 2010-05-05 - South East England Bluegrass + Old-Time Music .htm
......| ......| graphics
......| Blues
......| ......| 2010-02-23 - Classic Appalachian Blues - Free Download.htm
......| ......| 2010-03-19 - Announcing Benz Blues 'n Boogie Promotions @ in Thame - 2010 Blues Gigs (10).htm
......| ......| 2010-04-06 - Bottleneck Blues Club.htm
......| ......| 2010-04-09 - Audio Correction - Classic Appalachian Blues Track 4 Railroad Bill.htm
......| ......| 2010-04-12 - Blues for free in London.txt
......| ......| 2010-04-20 - Bottleneck Blues Club.htm
......| ......| 2010-05-05 - Bottleneck Blues Club.htm
......| Cajun
......| ......| 2010-01-06 - Cajunbarn is back!.htm
......| ......| 2010-04-07 - Cajun zydeco comin' up!!.htm
......| ......| 2010-04-21 - Cajunbarn - diary dates.htm
......| ......| 2010-05-05 - Cajun zydeco comin' up!!.htm
......| ......| Cajun + Zydeco Dance Workshops 2010 - Whitstable.html
......| ......| Cajun website and email list.html
......| Celtic
......| ......| 2010-03-05 - Adrian-O - NEW FESTIVAL.htm
......| ......| 2010-03-09 - Brendan Power, Tim Edey, Lucy Randall gigs - 2010.htm
......| ......| Monthly Session list.html
......| Classical
......| Dance, Ceilidhs, Barn Dances
......| ......| 2010-03-01 - Canterbury Folk Dance Club.htm
......| ......| 2010-04-27 - Exciting Dance at The Gulbenkian.htm
......| ......| Dance School in Maidstone.htm
......| ......| Kentish Hops - Book and CD - Dances.htm
......| ......| SEFAN 2010-04-12_01 Dance round up for week beginning Monday April 12th .htm
......| ......| SEFAN 2010-04-19_01 Dance round up for week beginning Monday April 19th .htm
......| ......| SEFAN 2010-04-27_02 DANCE ROUNDUP for week beginning 26th April to May Bank Holiday Monday..htm
......| ......| SEFAN 2010-04-29_02 More ceilidh dancing over the Bank Holiday.htm
......| ......| SEFAN 2010-05-04_01 DANCE ROUND UP week beginning May 3rd.htm
......| ......| SEFAN2010-05-04_04 EFDSS. Vote Folk.htm
......| Folk
......| ......| 2009-12-29 - News + Event Dates from Doug Hudson.htm
......| ......| 2010-01-11 - PIERRE VINCENT GEMMA AND MALCOLM AT THE MEDWAY LITTLE THEATRE - SATURDAY 29 MAY 2010.htm
......| ......| 2010-02-09 - Ron Trueman-Border New Album and gigs.htm
......| ......| 2010-03-07 - Ron Trueman-Border Update.htm
......| ......| 2010-03-09 - Brendan Power, Tim Edey, Lucy Randall gigs - 2010.htm
......| ......| 2010-04-02 - THE DEALERS Vol 1.htm
......| ......| 2010-04-03 - Dylan@Hop Farm Festival .htm
......| ......| 2010-04-04 - Ron Trueman-Border and Perfect Strangers Newsletter.htm
......| ......| 2010-04-15 - Folk Against Fascism.htm
......| ......| 2010-04-15 - Guitars at the Gulbenkian!.htm
......| ......| 2010-04-16 - Rory McLeod - formerly Radio 2 Folk Awards winner + The Dealers.htm
......| ......| 2010-04-17 - Dave Ferra gigs.txt
......| ......| 2010-04-17 - The Jones Boy - gig list.txt
......| ......| 2010-04-17 - TICKETS ON SALE - THE DEALERS AT MEDWAY LITTLE THEATRE - SATURDAY 29 MAY 2010.htm
......| ......| 2010-04-20 - Pigs Ear.txt
......| ......| 2010-04-21 - Pigs Ear at the Kentish Horse - this Saturday 24 April.htm
......| ......| 2010-04-27 - from Doug Hudson - gig lists .htm
......| ......| 2010-05-03 - TILM PROV_time.htm
......| ......| 2010-05-03 - TILMANSTONE 27thJUNE.htm
......| ......| 2010-05-03 - TILMANSTONE FOLK FESTIVAL.htm
......| ......| 2010-05-05 - Ramsgate Dynamo Day ( Fours A Crowd ).htm
......| ......| 2010-05-05 - Ron Trueman-Border News and Gigs.htm
......| ......| SEFAN 2010-04-21_02 Folk on the BBC.htm
......| ......| SEFAN 2010-04-30_03 St. George's Day and National Front.htm
......| ......| SEFAN 2010-05-04_03 help naming a tune please.htm
......| Gigs from Facebook
......| ......| Gigs from Facebook.mht
......| Gypsy + Romany
......| ......| 2010-03-03 - Le QuecumBar gig list March April .htm
......| ......| 2010-03-20 - Le QuecumBar gig list March April May .htm
......| ......| 2010-04-12 - April Gypsy Balkan music.htm
......| ......| 2010-04-15 - Andreas Oberg in concert at Le QuecumBar.htm
......| ......| 2010-04-21 - From USA THIS MAN IS A LEGEND! In the words of Elton John John Jorgenson's guitar work is brilliant fing brilliant!.htm
......| ......| 2010-04-24 - from usa JOHN JORGENSON QUINTET this weekend .htm
......| ......| 2010-04-28 - Gig list QuecumBar APRIL MAY JUNE.htm
......| ......| London Gypsy Orchestra Musicians.htm
......| Jazz
......| ......| 2010-04-06 - Dutch No.1 Jive Swing Band Jazz Connection - UK Tour April 2010.htm
......| ......| 2010-04-07 - A great jazz line-up in Medway this summer.htm
......| ......| 2010-04-23 - Not Virtuoso Jazz Fiddle for St. Georges Day.txt
......| ......| 2010-04-23 - Virtuoso Jazz Piano, 30th April 2010.txt
......| ......| 2010-05-04 - The Jamie Baum Quintet at The Vortex in London on 23rd May 2010 (5).htm
......| ......| Hot Club Jazz at St Julians Sevenoaks.htm
......| ......| Open Mic Jazz Singers Night.htm
......| ......| SEFAN 2010-04-21_02 Folk + Jazz on the BBC.htm
......| Klezmer
......| ......| 2010-05-05 - Klezmer news +.htm
......| Les Batons, European + EuroCelt
......| ......| 2010-02-03 - Paela with .... events in maidstone - March, Oct 2010.htm
......| ......| 2010-04-13 - les Batons Gathering - Sunday 18th April.htm
......| ......| 2010-04-25 - Relig Oran Gigs May June 2010.txt
......| ......| Monthly Session list.html
......| ......| Relig Oran mp3 downloads from eFolkMusic.txt
......| Maritime
......| ......| CONTINUATION OF THE SHANTY CREW.htm
......| ......| Deal LifeBoat House shanty singing - 2003 - MP3 downloads from KentFolk and eFolkMusic.txt
......| ......| SEFAN 2010-04-16_01 EVENT Tall Ships - A Sailor's Life. 25th April. KENT.htm
......| ......| The maritime tradition.htm
......| Morris, Mumming, Hoodening + Bell ringing
......| ......| 2009-07-29 - Woodchurch Morris Men.htm
......| ......| SEFAN 2010-04-01_02 GLEANING Call Out.htm
......| ......| SEFAN 2010-04-28_03 Further on MayDay Morris and events.(2 posts) OXON KENT.htm
......| Roots + World
......| Song, choirs, spoken word
......| ......| 2010-05-05 - 2010 Frank Harte Festival Programme1.htm
......| ......| 2010-05-05 - Vocal Explosion Choir Camp 2010.htm
......| ......| SEFAN 2010-02-22_01 STORY EVENTS (Feb- April) SURREY .htm
......| ......| SEFAN 2010-04-08_01 Surrey Storytelling Events to End July 2010.htm
Musicians + Links
......| 2008-11-05 - Kai Tonjes instruments - New workshop.htm
......| 2008-12-22 - High Weald Ridge - Bluegrass.txt
......| 2008-12-28 - porch swing blues gig list.htm
......| 2009-04-29 - Link Exchange Request.txt
......| 2009-07-29 - Tony Lesurf (drums,Bodhran & backing vocals).htm
......| 2009-09-10 - Alison Rowley - caller, fidlder.htm
......| 2010-02-07 - George Chater.htm
......| 2010-02-10 - Pete Fyfe - Live Review of JEZ LOWE.htm
......| 2010-02-23 - Goosebumps.txt
......| 2010-03-08 - Sarah Reed - Gig list and CDs.htm
......| 2010-03-13 - link exchange request - music instruments sites.htm
......| 2010-03-14 - Mike Heron - ISB - Uncut Magazine.htm
......| 2010-04-07 - The Jones Boys.txt
......| 2010-05-04 - Stephen John Morse + Bleak Angel.txt
......| Graham Corbould - singer-songwriter.htm
......| Phil Thorne -acoustic country blues .htm
......| Raglan Road.htm
......| Ratalaz - eFolkMusic.txt
......| Tony Cox - virtuoso guitarist.htm
Open Stage
......| 2009-05-25 - Two new open stages.txt
......| 2009-07-21 - Sunday Open Mic Night at The Sondes Arms, Selling.htm
......| 2009-07-21 - Sunday Open Mic Night at The Sondes Arms, Selling.pdf
......| 2009-07-23 - Open Stage info update fron CJ.htm
......| 2010-01-14 - Greenwich - fridaymic.com.htm
......| CJ's open mic nights.txt
......| Jack Pound's Open Stage.txt
......| Monthly Open Stage list.txt
......| Open Mic Nights - Chislehurst - hosted by the Missouri Gutts.htm
......| Open Stage - Phil for cj.htm
......| SEFAN 2008-04-02_02. Open Mike at The Pig Butcher (formanlly The Fireman's).htm
Organisations
......| 2010-01-05 -Fiddle Hangout Players Union for 2010.htm
......| 2010-04-30 - NetRhythms Merry May Day Celebrations.txt
......| 2010-04-30 - WeGotTickets for Secret Cinema + La Route Du Rock + Au Revoir Simone + Ganglians + TRUCK + more.htm
......| Ariel Publicity
......| ......| 2010-04-07 - Pre-Cleared Podsafe Cyber PR Client American Idol Finalist.htm
......| ......| 2010-04-14 - Pre-Cleared Podsafe Music Reviewers Needed for ReviewYou.com.htm
......| ......| 2010-04-21 - Pre-Cleared Podsafe ASCAP Here I Come!!!.htm
......| ......| 2010-04-28 - Pre-Cleared Podsafe This week's TOP Blog Podcast Internet Radio.htm
......| EFDSS
......| ......| SEFAN 2010-04-06_02 What's On at Cecil Sharp House in April.htm
......| ......| SEFAN 2010-04-09_01 EFDSS - Nowt as Queer as Folk Concerts Monday May 3rd.htm
......| ......| SEFAN 2010-04-30_01 What's On at Cecil Sharp House in May.htm
......| efolkMusic
......| ......| 2010-04-21 - efolkMusic News 04.21.2010.htm
......| FAE - Folk Arts Network
......| House Concert European Hub
......| ......| 2010-01-11 - The Sample CD and notes.htm
......| ......| 2010-03-01 - Come join me on The House Concert European Hub ( Acoustic Music Club Network).htm
......| ......| 2010-03-07 - House Concert hub monthly update and artist of the month..htm
......| ......| 2010-03-07 - House concert hub stats.htm
......| ......| 2010-03-18 - Check out The Medicine Show is on The Road with Phil Lee in July.htm
......| ......| 2010-04-08 - Emma Shearers Acoustic Thursday Coffee Shop Sessions on The House Concert European Hub ( Acoustic Music Club Network).htm
......| ......| 2010-04-16 - Check out Acoustic Strathpeffer's Page - The House Concert European Hub ( Acoustic Music Club Network) on The House Concert European Hub.htm
......| ......| 2010-04-19 - Check out Ning plan to close the free service - The House Concert European Hub ( Acoustic Music Club Network) on The House Concert European Hub.htm
......| Indie Contact
......| KentGigs.com
......| ......| 2010-03-16 - News and Gigs Wotson 28st March 2010 to 3rd April 2010 - Kent E Sussex Gig Guide.htm
......| ......| 2010-04-13 - News and Gigs Wotson 25th April 2010 to 1st May 2010 - Kent E Sussex Gig Guide.htm
......| ......| 2010-04-20 - News and Gigs Wotson 2nd May 2010 to 8th May 2010 - Kent E Sussex Gig Guide.htm
......| ......| 2010-04-27 - News and Gigs Wotson 9th May 2010 to 22nd May 2010 - Kent E Sussex Gig Guide.htm
......| Making Music
......| ......| SEFAN 2010-04-09_02 Free Business Consultation Sessions for member groups Sat 8 May Maidstone.htm
......| Moles Music
......| ......| 2010-03-17 - Moles Music gig-list to July 2010.txt
......| Mrs Casey Music
......| ......| 2010-04-07 - The best band I've seen in years Mike Harding.htm
......| Music for Change
......| ......| 2010-04-27 - Music for Change - Global Newsletter Summer 2010.htm
......| NetRhythms
......| ......| 2010-04-04 - NETRHYTHMS Great News Reviews .txt
......| ......| 2010-04-07 - NetRhythms Out About.txt
......| ......| 2010-04-17 - NetRhythms RECORD STORE DAY 17th April.txt
......| SCoFF
......| SEFAN
......| ......| SEFAN 2010-02-12_01 Sussex Regional Meeting Take 2! + Call Out for volunteers for Marie Curie fundraising drive..htm
......| ......| SEFAN 2010-03-05_01 Strengthen the BBC ! - three petitions.htm
......| ......| SEFAN 2010-04-06_01 NETWORK announcements (4 posts).htm
......| ......| SEFAN 2010-05-06_01 SEFAN Subscription rates from June 1st.htm
......| ShivaNova
......| Skiddle
......| ......| 2010-03-05 - New Feature! Are you tagging your artists.txt
......| Smithsonian
......| ......| 2010-02-23 - Classic Appalachian Blues - Free Download.htm
......| ......| 2010-04-09 - Audio Correction - Classic Appalachian Blues Track 4 Railroad Bill.htm
......| ......| 2010-04-28 - Smithsonian Folkways Magazine - Spring '10 Rainbow Chronicle of a Collaboration.htm
......| VAE - Voluntary Arts England
......| WeGotTickets
......| ......| 2010-04-06 - WeGotTickets is Ten Years Old.htm
......| ......| 2010-04-09 - WeGotTickets for Broken Social Scene + She Him + CocoRosie + Ian McCulloch + Summer Sundae + more.htm
......| ......| 2010-04-16 - Events over the weekend .htm
......| ......| 2010-04-16 - WeGotTickets turns 10 + Nina Nastasia + Bonnie Prince Billy + Best Coast + The Slits + TPOBPAH.htm
......| ......| 2010-04-23 - WeGotTickets for Young Knives + Peter Hook + All Tomorrow's Parties + Pete Tong + Wax Tailor.htm
......| ......| 2010-05-03 - WeGotTickets for festivals....htm
......| ......| We 2010-05-03 - The 1-2-3-4 Shoreditch Festival featuring Wavves These New Puritans We Have Band and more.htm
Regional
......| Americas
......| ......| 2010-04-09 - MNN Daily News For April 9 2010.htm
......| ......| 2010-04-12 - Music News Nashville for April 12 2010.htm
......| Essex
......| Europe
......| Hampshire
......| Ireland
......| Kent
......| ......| 2009-03-20 - State of play in Canterbury pubs.html
......| ......| 2010-03-16 - News and Gigs Wotson 28st March 2010 to 3rd April 2010 - Kent E Sussex Gig Guide.htm
......| ......| 2010-04-01 - two French Market events in Kent.htm
......| ......| 2010-04-12 - News and Gigs Wotson 25th April 2010 to 1st May 2010 - Kent E Sussex Gig Guide.htm
......| ......| 2010-04-20 - News and Gigs Wotson 2nd May 2010 to 8th May 2010 - Kent E Sussex Gig Guide.htm
......| ......| 2010-04-27 - News and Gigs Wotson 9th May 2010 to 22nd May 2010 - Kent E Sussex Gig Guide.htm
......| ......| 2010-04-28 - Summer events leaflets for Kent.htm
......| ......| 2010-04-29 - Art Beat e-newsletter - MAY 2010.htm
......| ......| Folkestone + Hythe
......| ......| ......| 2010-01-21 - Kent Folk Team - Folkestone Hythe.htm
......| ......| ......| Folkestone + Hythe - News + Events.htm
......| ......| Shepway + Thanet
......| ......| ......| 2010-04-15 - Art Beat update notice about May deadlines.htm
......| ......| ......| 2010-05-05 - Ramsgate Dynamo Day ( Fours A Crowd ).htm
......| ......| West Kent
......| ......| ......| 2010-03-15 - Pignews Keeping Music Live in West Kent.htm
......| ......| ......| 2010-04-21 - Pigs Ear at the Kentish Horse - this Saturday 24 April.htm
......| ......| ......| West Kent - News + Events.htm
......| London
......| ......| 2010-02-19 - London Lasses 4th album launch 17 April @ LSO St Lukes Conor Doherty @ Arts Depot Fri 19 Feb and sooo much more ........htm
......| ......| 2010-03-19 - MUSICAL TRADITIONS CLUB Spring Summer 2010 plus Keith Fest BKG form.htm
......| ......| 2010-03-20 - Le QuecumBar gig list March April May .htm
......| ......| 2010-04-01 - Easter Folk Festival Bruce Molsky Dogan Mehmet Folk @ Passing Clouds.htm
......| ......| 2010-04-04 - Easter Monday Festival + Hackney Festival for Families.htm
......| ......| 2010-04-04 - Lasses launch tix First Sunday of Month Dancing @ LIC Folkworks @ King's Place and more ....htm
......| ......| 2010-04-05 - MUSICAL TRADITIONS CLUB Summer PLUS FESTIVAL BOOKING FORM.htm
......| ......| 2010-04-15 - Andreas Oberg in concert at Le QuecumBar.htm
......| ......| 2010-04-15 - Some walk up tix left for London Lasses launch this Saturday Fri 23 April Braebach Sun 25 April The Mulkerrin Brothers and more ...htm
......| ......| 2010-04-16 - Win Whitney tickets and take the Time Tunnel quiz to win....htm
......| ......| 2010-04-21 - From USA THIS MAN IS A LEGEND! In the words of Elton John John Jorgenson's guitar work is brilliant fing brilliant!.htm
......| ......| 2010-04-24 - from usa JOHN JORGENSON QUINTET this weekend .htm
......| ......| 2010-04-27 - Magpies Nes - May Day! May Day!.htm
......| ......| 2010-04-28 - Gig list QuecumBar APRIL MAY JUNE.htm
......| ......| 2010-04-28 - MUSICAL TRADITIONS CLUB Keith Summers Festival 7-9th May BOOKING FORM .htm
......| ......| 2010-05-04 - The Jamie Baum Quintet at The Vortex in London on 23rd May 2010 (5).htm
......| ......| Kentis2010-04-17 - Listings PBS6 Kirsty McGee Nest Tour Launch FAF Nowt As Queer As Folk.htm
......| ......| SEFAN 2010-04-23_01 Folk Rising at Cecil Sharp House.htm
......| S.E. England
......| ......| 2010-04-30 - Brighton Fringe Festival + Tonight!.htm
......| ......| SEFAN 2010-04-13_01 EVENTS (3 posts) Sussex Kent and a late change of venue (in Northampton).htm
......| ......| SEFAN 2010-04-16-02 EVENTS Listings for THE STABLES. MK. End APRIL thro' MAY.htm
......| ......| SEFAN 2010-04-16_03 EVENTS (2 posts) Sussex and Surrey..htm
......| ......| sefan 2010-04-19_02 Network Call outs (2 posts).htm
......| ......| SEFAN 2010-04-23_01 EVENTS (3 posts) .htm
......| Scotland
......| Suffolk
......| Surrey
......| ......| SEFAN 2010-04-28_02 Crawley Beer Festival.htm
......| Sussex
......| ......| 2010-01-06 - old time session.htm
......| ......| 2010-03-14 - Ten for Ten - Geno Washington - Hailsham Pavilion.htm
......| ......| 2010-04-07 - Royal Oak Irish session cancelled - Friday 30th April 2010.htm
......| ......| 2010-04-18 - Ten for Ten - The Original Lonnie Donegan Band.htm
......| ......| 2010-04-21 - LONNIE DONEGAN BAND - REARRANGED DATE.htm
......| ......| 2010-04-26 - Ten for Ten - Chumbawamba The Demon Barbers + Eric Bibb News.htm
......| ......| 2010-04-28 - Vocal Explosion at Stanmer park May 16th.htm
......| ......| 2010-04-29 - NINE ITEMS OF FOLK MUSIC NEWS FROM LEWES FOR MAY.txt
......| ......| Acoustic Sussex Newsletter 2010-04-11.htm
......| ......| Acoustic Sussex Newsletter 2010-04-22 - last call for Emily Smith.htm
......| ......| SEFAN 2010-04-01_01 EVENTS (3 posts) Sussex.htm
......| ......| SEFAN 2010-04-07_01 EVENTS (3 posts) Sussex.htm
......| ......| SEFAN 2010-04-27_01 EVENTS (2 posts) SUSSEX.htm
......| ......| SEFAN 2010-04-29_01 Lewes Saturday Folk Club in May - The Room In The Elephant. SUSSEX.htm
......| ......| SEFAN 2010-04-30_02 EVENTS (1 post) BRIGHTON.htm
......| ......| SEFAN 2010-05-04_02 'Out Into the White Stare' Sunday 16th May Brighton SUSSEX.htm
......| UK National
......| Wessex
......| ......| 2010-01-15 - SCoFFnews Wessex AcousticFolk Club NEW VENUE.htm
......| World
Reviews
......| 2010-01-20 - Review of Pete Cooper's - American Old Time Fiddle Tunes.html
Sessions
......| 2009-09-01 - Bluegrass+Old-Time - new session.htm
......| 2010-03-13 - Black Horse session - now ended.htm
......| A plea for new players at traditional sessions - particularly younger players.html
......| Bell+Jorrocks
......| ......| 2010-03-02 - Bell Jorrocks sessions and festival.htm
......| ......| 2010-04-21 - Bell Jorrocks session - this Sunday 25th April.htm
......| Celtic
......| ......| 2009-07-10 - Session update.htm
......| ......| 2010-04-09 - THIS SUNDAY .htm
......| ......| 2010-04-14 - SESSION TONIGHT CANCELLED.htm
......| ......| 2010-04-21 - Celtic session tonight is on.txt
......| ......| 2010-04-24 - THIS SUNDAY 25TH APRIL 8PM.txt
......| ......| 2010-04-25 - We have decided to rest the weekly Irish session for the forseeable future .htm
......| English
......| ......| 2009-05-21 - Bell + Jorrocks sessions go regular.htm
......| ......| Doddington Music Session.htm
......| ......| SEFAN 2010-05-04_03 help naming a tune please.htm
......| ......| SEFAN_2007-11-27_02.ANOUNCE. Lewes Favourites sessions 2008 supplement books.htm
......| European
......| ......| 2009-06-12 - New French session Bekesbourne Sunday July 5th.htm
......| Jazz
......| ......| Hot Club Jazz - session - at St Julians Sevenoaks.htm
......| Mixed
......| ......| Woodshed session - Tune + song list .htm
......| Monthly Session list.html
......| Oldtime
......| ......| 2010-01-06 - Old time session.htm
......| ......| 2010-02-02 - session.htm
......| What tunes do they play at the different sessions.txt
Sing-Arounds
......| 2010-01-25 - Folk At The Foresters Mailing List.htm
......| 2010-04-04 - Sing-arounds in Maidstone.htm
......| Folk Sing Around at the Chequers, Ash.txt
......| Monthly Sing-Around list.txt
......| Tenterden Folk Club at The Woolpack.htm
Tours + Newsletters
......| 2010-02-11 - Dan Crary - available April 1.htm
......| 2010-04-20 - Nathan gets his Big Break!.txt
......| 2010-04-21 - Forest Sun.htm
......| 2010-04-27 - ben paley - fiddle player - newsletter.htm
......| 2010-04-27 - FLOOK NEWS Brian Finnegan solo CD and tour dates.htm
Venues
......| Anchor Inn - Littlebourne
......| Astor Theatre
......| Barge - Gillingham
......| ......| 2010-04-25 - Monthly Gig List (May 2010).txt
......| Barnaby Rudge - Broadstairs
......| Beer Cart Arms
......| Belgian Cafe - Ramsgate
......| Bottleneck Blues
......| ......| 2010-04-06 - Bottleneck Blues Club.htm
......| ......| 2010-04-20 - Bottleneck Blues Club.htm
......| ......| 2010-05-05 - Bottleneck Blues Club.htm
......| Caseys
......| Central Theatre - Chatham
......| ......| 2010-04-13 - New season of entertainment announced at The Central Theatre.htm
......| Cullins Yard
......| Dove at Dargate
......| Evenhill - Littlebourne
......| Folk in the Barn
......| ......| 2010-03-19 - The longest ever mailout - but worth it I promise!.txt
......| ......| 2010-04-07 - FitB - Easter report.txt
......| ......| 2010-04-29 - Show of Hands tomorrow - yay!!.txt
......| ......| 2010-05-06 - May - you never - miss out on great music.txt
......| ......| Folk in the Barn - Contacts for tickets.txt
......| ......| New Payment option.txt
......| Folkus - Medway
......| Gulbenkian
......| ......| 2010-04-15 - Guitars at the Gulbenkian!.htm
......| ......| 2010-04-27 - Exciting Dance at The Gulbenkian.htm
......| ......| 2010-05-06 - The Green Room Summer Theatre School.html
......| Hook and Hatchet - Hucking
......| HorseBridge - Whitstable
......| Louis Armstrong - Dover
......| ......| 2010-04-09 - ANDY MACLEAN @ THE LOUIS ARMSTRONG, DOVER on 11 April 2010.txt
......| ......| 2010-04-12 - DJANGLES at THE LOUIS ARMSTRONG, DOVER on 18 April 2010.txt
......| ......| 2010-04-12 - LED GREMLIN at THE LOUIS ARMSTRONG, DOVER on 16 April 2010.txt
......| ......| 2010-04-12 - SCANDAL at THE LOUIS ARMSTRONG, DOVER on 17 April 2010.txt
......| ......| 2010-04-12 - Zen Bicycle Band at THE LOUIS ARMSTRONG, DOVER on 26 April 2010.txt
......| ......| 2010-04-20 - Louis Armstrong gig list to June 2010.txt
......| Man of Kent Alehouse - Rochester
......| Marlow
......| New Venues
......| Orange Street
......| ......| 2010-04-12 - Speakers Corner Quartet @ Orange Street Music Club on 24 April.txt
......| ......| 2010-05-01 - TWILIGHT FOLK NEWS MAY 2010.htm
......| Parrot - Canterbury
......| Pizza Express
......| Rose + Crown - Canterbury
......| Soul Cafe Maistone
......| The Chambers - Folkestone
......| Three Mariners at Oare
......| Trinity Theatre
......| Wrotham Arms - Broadstairs
......| Yew Tree
......| ......| 2010-02-15 - Yew Tree boarded up.htm
Web info
......| Google
......| ......| Google Advertising.html
......| ......| Google Calendars.html
......| Group and Musician web-sites
......| ......| 2008-12-05 - Cellar Upstairs new website.txt
......| ......| 2010-01-30 - A number of Kentish groups also have web pages on Team-KentFolk - add yours.txt
......| ......| 2010-01-30 - Florida web site, also on Team-KentFolk.txt
......| KentFolk How-Tos
......| ......| Having images, photos, posters and flyers in emails for the web.htm
......| ......| How to send event items for the KentFolk Calendars.html
......| ......| How to send news items for the KentFolk News pages.html
Workshops
......| 2009-01-25 - Lewes Saturday Folk Club - new web-site + workshop details .htm
......| 2010-04-12 - Paul Vernon Chester's Gypsy Jazz Master Class - Walsall, Midlands - 17th July 2010.htm
......| 2010-04-23 - Joe Broughton's Fiddle School with guitars.htm
......| Music Workshops in Medway.txt


---
---
---