---
KentFolk News

August 2003
---

Sorry about the August calendar, just too busy, then it was either get the calendar up or go to Broadstairs, so you know what I chose ...

Anyway, August and September calendars are now up, and have a wider and more complete range of Kentish gigs than ever before.

I have updated the Celtic sesion details, and chased up on some of the jazz venues - if anyone can update me regarding the Louis Armstrong in Dover, I would appreciate it.

I have also added some Medway pubs and clubs to the venue and club section - Dartford Folk Club and The Barge at Gillingham were well overdue, and added a mumber of Medway gigs to the calendar - please do tell me if there are any mistakes in these, as I am out of my usual patch.

I have just added and updated a number of links, but they are not all fixed yet.

I have just had the Deal Festival program, see below or on the Festivals page.

---
Broadstairs Folk Week - the best I have been to yet - but for me the enduring image will be of a sound engineer using a paper fan borrowed from the audience, fanning the amplifier heatsink vigorously, to keep Davey and Christa on air.
In the sizzling heat sound desks were quitting on more gigs than not, mains power and lighting was tripping out all round town.
But some great music - do catch Legacy (Sussex), who were also at Sweeps, if you get a chance - some wonderous fiddling from Tim Cotterell.
---
More festivals on the way, see the KentFolk Festivals page for more details.
Canterbury Fayre : Friday 22nd to Monday 24th August. See the bottom of this news section for a line up.
Aug 29-31 Faversham's 13th INTERNATIONAL HOP FESTIVAL

Sep 4-7 DEAL MARITIME FOLK FESTIVAL, Deal, Kent. - PROGRAM

Oct 3-5 TENTERDEN FOLK FESTIVAL, nr Ashford, Kent.

Oct 11-25 CANTERBURY FESTIVAL, Canterbury, Kent.
If you fancy something more traditional than the Canterbyry Fayre, try The Red Lion at Baddlesmere, all week end, until Monday afternoon - there are still a few camping spaces available.
It reminds me, last year I heard some of his own songs from Bob Simmons :
Dance to the Possible and Look Now.
At the Hop festival, do not miss Kadril in the Phoenix on Saturday Night.
This is the poster from last year :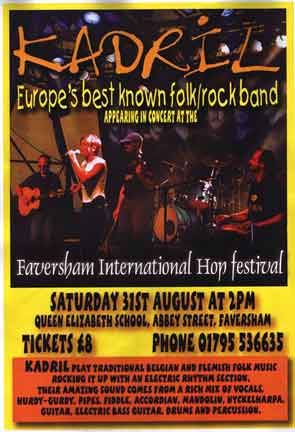 ---
Public Entertainment Licence
The new act changing the rules for public entertainment has now been passed, and will come into force over the next year or so - I have put a few personal view points from the web and myself on the KentFolk site:
The Licensing Bill
PEL now to be law
KentFolk viewpoint
and a page with a set of truncated excerpts (14 pages from the vastly longer full official document, plus a bit from the official explanatory notes), that may be of use in finding your way around the new laws.
---
Wednesday Celtic Session
If you have been looking for the Wednesday Celtic session at the George Inn, Stone St. it has now diversified into a number of pubs on different days of the week:
Wednesday have recently been in the Anchor in Wingham, where they have had a very warm welcome; however Kunlie at the George Inn, Stone St., has just invited the Celtic session back for a trial month in September - please do support this - lets pack the pub so that we re-gain this as a regular venue !
on Thurday there is the Three Tuns, 16 Tannery St., Faversham;
on the 1st Sunday there is a Celtic session at the Shipwrights Arms, Faversham;
on the 2nd Sunday there is the White Horse, Chilham, which is a mixed Blues / Celtic / Country evening;
and on the last Sunday the Deal Celtic session is now in the Ship.
- please do support them and the pubs.
For those of you that know the excellent Irish storyteller Adrian O, he will be in the Hare and Hounds, Blean, Canterbury, on Saturday 13th September.
Part of the evening will be recorded for Adrian's latest CD - "Barely Rhyme or Reason". For further info, Tel. 01304 615079
---
Cajun
The next Cajun event is a Cajun dance with Cajunologie at the Faversham Hop Festival, Alexander Centre, 29th August, 7.30pm,
Tickets: £7, Siesta, Palace St. Canterbury; Gatefields Sounds, High St. Whitstable; Alexander Centre, Preston St., Faversham; or ring 01227 731549.
There is also a Cajun dance with Cajunologie as part of the Deal Festival, 12:30, Saturday 6th September, Kings Head, Beach St., Deal.
There is a Cajun dance workshop with Wild Turkey (Yves and Chris from Cajunologie). The workshop is led by Kay Anderson, 2:30pm - 4pm on 21st September at Star Hill Function Rooms, Star Hill, Rochester. £3.50, ring Ann on 01634 405 840.
then :
Cajun Dance Night with Cajunologie October 11th, Star Hill Function Rooms, Star Hill, Rochester. £6.50, ring Ann on 01634 405 840.
---
Jazz
Check the calendar for Jazz - You will find Andy Maclean regularly in the Rose & Crown, Stelling Minnis, on a Wednesday, and the George Inn, Stone St. is now having Jazz on a Sunday, starting 2pm.
The Tiger at Stowting have just celebrated 20 years of Jazz on a Monday with Ian Shawcross, without a break, and have a beer festival until Monday 25th, with folk on Friday 22nd.

---
From: Roger Diamond
RogerD_at_icomuk_dot_co_dot_uk

THE FAT RIVER BAND - GREAT COUNTRY FUNK BAND WITH NO GIGS!
CALL 07799 45 65 95 IF YOU CAN HELP!!!
Bullet - Hi-calibre Rhythm & Blues
Sun 24 Aug Chilham Steam Fair, Evening.
Fri 29 Aug The Happy Frenchman, Folkestone.
Sat 30 Aug Faversham Beer Festival, Preston St. 14:00.
Sun 31 Aug Faversham Beer Festival, Market Place 13:30.
Sat 13 Sept Churchill's, The Paragon, Ramsgate.
Sun 14 Sept The Anchor, Faversham.

Cheers... Roger The Drummer

---

THE WELL THAT
NEVER RAN DRY

Traditional tunes from Ireland, Scotland and beyond

Compiled by

ANDY RENSHAW

Andy Renshaw has a new book out, a collection of over forty traditional tunes, plus extensive notes collected over the twenty five years or so he has been playing traditional music.
Price £7.00. Available on 01227 831211, or www.camine.co.uk




(This will also be on the KentFolk Adverts section from now).
---
From: Wendy Harris wendyharris_at_ntlworld_dot_com
To: beau_at_kentfolk_dot_com
Subject: Hythe Festival 2004
Is there anywhere you could advertise this for us???
We are looking for FOLK performers to take part in a Folk Day - Saturday July 10th 2004 as part of the Hythe Festival. We are particularly looking for the interesting/ unusual!!! Please look at the website for more details www.hythe-festival.co.uk but email me direct if you would like to take part.
Thank you
---
From: Alan Castle - Folk Spots Folkspots_at_btinternet_dot_com
Subject: Tenterden Folk Festival - News


Tenterden Folk Festival

More events and guests added on Sunday

The programme for this year's Tenterden Folk Festival, which runs from 3rd to 5th October, includes more guests and events throughout the day on the Sunday from 10 a.m to 11.00 p.m.

The list of Sunday events already includes the following;

* Craft fair and folk sales in the Assembly Rooms of the Town Hall from 10 a.m.

* More stalls in the High Street also from 10 a.m.

* Informal dance displays by the remaining Morris sides

* An acoustic folk club upstairs in the Eight Bells in the morning
* Music session in the White Lion at lunchtime

* A sacred heart workshop in the Zion Baptist Church in the afternoon
* The Homewood Concert in the new Community Theatre at Homewood School from 5.00 p.m.

* The final sing-a-round in the bar of the Eight Bells in the evening
* There may well be other events the details of which have not yet been finalised.

The acoustic folk club will again be run by Kathy and Bob Drage and will feature festival guests including Pete Castle, Johnny Collins, Graeme, Knights, Bing Lyle, Women in Harmony and as many floor singers as can possibly be fitted into the time and space! This event is extremely popular and attracts a wide variety of floor sings, musicians, storytellers and other folk performers.

The Sacred Heart workshop is a new event to the festival and will be lead by Tony Singleton and members of the group, The Marsh Warblers. The workshop is based on songs from the book, The Sacred Harp. The songs are sung in four-part harmony and have been described as "White Spirituals". Sung for over two centuries in the States, they are gaining an increasing following in this country. With their driving rhythms and folk harmonies, they attracted the attention of the Young Tradition (Wondrous Love) and the Watersons (Idumea). Beginners and experienced singers are all welcome to come along and join in this workshop, but it would be helpful to have a moderate music reading ability or to be able to pick up a tune quickly by ear. All music will be provided and the workshop will be illustrated with recordings.


The Homewood Concert will be one of the highlights of the Festival. The traditional Romanian brass band, Fanfare Ciocărlia, will be headlining in this special concert. The band will be touring the UK at that time and were keen to include an appearance at an English folk festival. This unique concert will be held in the new Community Theatre at Homewood School and has been made possible by generous sponsorship from Homewood School to whom we are extremely grateful.


Hailing from the secluded village of Zece Prajini in mountainous eastern Romania, near the Moldovan border, Fanfare Ciocărlia embodies all the bravura and vertiginous speed of Roman Gypsy brass band music. The band has become an international sensation since the world music network first caught wind of their hyper horn hoe downs, typically clocking in at a feverish 150 beats per minute. Playing a mixture of styles from the Balkans, the band plays with demonic speed. Their high-spirited music comprises a lively blend of traditional dances from Romania, Bulgaria, Serbia, Macedonia and Turkey played on horns, trumpets, clarinets and timpani. As well as from their own traditional music, the group take up current melodies from movies between Bollywood and Hollywood as well as adapting international radio hits to Fanfare Ciocărlia's very own style.


Over the last four years Fanfare Ciocărlia have released three CDs, entered music charts and received excellent reviews for their CDs and live performances. The band has toured incessantly around the world, playing in major cities like Tokyo, London, Amsterdam, Moscow, Montreal and New York. They have performed in festivals such as WOMAD, the Montreal Jazz Festival, and at Cartagena's Mar de Música, just to name a few. And now they are to appear in Tenterden at this year's Tenterden Folk Festival!

Representing the English tradition at this concert will be Derby based folk singer and storyteller, Pete Castle who is celebrating 25 years as a full time professional folk musician this year. Pete originates from Ashford and played with local "pop" groups in the 1960's. Pete is ably suited to open this concert as besides being a well known and respected exponent of the English tradition he has also played with the Anglo-Romanian folk group Popeluc in both England and Romania so listen carefully for one or two surprises.

Tickets:

FULL WEEKEND TICKETS admit holders to all events on Friday, Saturday and Sunday. COST: Before 1st Sept. £15.00 (under 16's £8.00). After 1st Sept. £17.00 (under 16's £9.00).

INDIVIDUAL EVENT TICKETS will also be available in advance, and, space permitting, may be available on the door of the event. Enquire for details in September. tff_at_Folkspots_dot_btinternet_dot_co_dot_uk or visit www.folkspots.btinternet.co.uk. If you intend coming to more than one event it is often best to buy the full weekend ticket as this can work out cheaper, will offer a 50% discount on the K&ES steam railway and numbers of single event tickets will be limited.

Make cheque payable to; "Tenterden Folk Day Trust" and send with two large s.a.e to; Tenterden Folk Festival, 15 Repton Manor Road, Ashford, Kent, TN23 3HA


The latest details of the Festival will be posted on our web page at www.folkspots.btinternet.co.uk

To receive our regular email updates send an email to
tff_at_Folkspots_dot_btinternet_dot_co_dot_uk with "add to festival news list" in the subject box.

Join the mailing list by sending a s.a.e. to Tenterden Folk Festival (mailing list)

Alan Castle, Tenterden Folk Day Trust, 15 Repton Manor Road, Ashford, Kent, TN23 3HA

Press release - August 2003

Alan Castle

Folk Spots:
Email: alan_at_Folkspots_dot_btinternet_dot_co_dot_uk
Home page: www.folkspots.btinternet.co.uk

Tenterden Folk Festival and
Tenterden Folk Day Trust (Registered charity No. 1038663);
Promoting folk song, music and dance:
Email: tff_at_Folkspots_dot_btinternet_dot_co_dot_uk
Home page: www.folkspots.btinternet.co.uk

If you have a problem with the web address use
www.btinternet.com/~folkspots
---

From: Vic & Tina Smith tinvic_at_globalnet_dot_co_dot_uk

Subject: Six items of Folk News from Sussex


1] FOLK AT THE ROYAL OAK, LEWES, THURSDAYS AT 8pm.
Station Street, Lewes
Enquiries:- (01273) 478124 or 881416
Email tinvic_at_globalnet_dot_co_dot_uk

We are closed during August, but start the new season with a bang. Here is our programme for the rest of 2003:-

Sept 4th * £5.00 * JAMES FAGAN & NANCY KERR
Winners of Best Duo, BBC Radio 2 Folk Awards 2003. Great entertainers and always a great hit at the Royal Oak
Sept 11th * £3.00 * KEVIN BARBER & MARK TAYLOR
Two of the best and most popular of local performers. Two fine singers and guitarist with an eclectic choice of songs
Sept 18th * £3.00 * THE OTHER BAND
Three fine talents in Marilyn Bennett, Iris Bishop & Garry Holder make a welcome return and will launch their CD tonight
Sept 25th * £4.00 * JEFF DAVIS
The hugely talented American is on tour again and his fine old time music on guitar, banjo and fiddle is a delight
Oct 2nd * £3.00 * JOY LEWIS & DERRICK HUGHES
A very warm entertaining evening with songs and tunes played on Northumbrian pipes, whistles, hammer dulcimer and guitar
Oct 9th * £4.00 * A BAND LIKE ALICE
Bob Winquist, Richard Collins, Serryl Payne, Gary Payne, Alan Ward combine their considerable talents in the best of bluegrass.
Oct 16th * £5.00 * LEON ROSSELSON
The leading songwriter makes a very welcome return visit. Spirited singing of remarkable songs to polished guitar
Oct 23rd * £4.00 * TIM LAYCOCK
This will be the first solo appearance by this talented, long established performer who delighted us with his New Scorpion Band
Oct 30th * £4.00 * GINA LE FAUX
A great all-round performer- fine singer and sensitive guitar player and the best English fiddler around.
Nov 6th * collection * POST BONFIRE OPEN NIGHT
Nov 13th * £4.00 * BRYAN PETERS
Traditional songs unaccompanied and to guitar and tunes played on melodeon and ango-concertina. A fine entertainer.
Nov 20th * £4.00 * DAVE ARTHUR, PETE COOPER & CHRIS MORETON Dave brings along the musicians who played on his excellent recent album "Return Journey" Songs and tunes from Britain and The States
Nov 27th * £4.00 * JANE & AMANDA THRELFALL, ROGER EDWARDS & MARTIN ELLISON The sisters sing beautifully together and receive wonderful accompaniments on guitar, melodeon and concertina.
Dec 4th * collection * LATE NIGHT SHOPPING OPEN NIGHT
Dec 11th * £5.00 * THE JOHN KIRKPATRICK CHRISTMAS SHOW
A sort of one-man version on the famed "Wassail" tour.
Dec 18th * CHRISTMAS PARTY NIGHT
Dec 25th * CLOSED
We start 2004 with Bob Copper's Birthday Celebrations (Jan 8th). Other guests in the new year will include Martin Carthy & Norma Waterson, Martyn Wyndham-Read and No Man's Band, Judy Cook.
Our website is at www.users.globalnet.co.uk/~tinvic

Those of you with listings/ gig guides etc. are asked kindly to include these dates amongst them.
**********
2] SUSSEX FOLK GUIDE WEBSITE UPDATED
The Sussex Folk Guide Website has just been updated with listings of many folk song and dance events in and around Sussex between now and the end of August . There are around 100 folk song and dance events listed on the site. You can find it at whatson.brighton.co.uk/folk
**********
3] THE FOLK DIARY
Most of the listings on the Sussex Folk Guide website are taken from the paper magazine, THE FOLK DIARY Issue no 202 covers the months of August and September. It also has adverts for various folk festivals, folk music record companies, specialist shops, instrument makers and other services. There are four pages of reviews of new folk music CDs and books. To obtain copies of this free magazine as it is published, please send SAE's to Vic Smith at the address below. It is also the address to send review copies to. The copy date for the October / November 2003 issue has just passed. The copy date for the December / January issue will be October 31st. Potential advertisers are also asked to contact Vic for a statement of our advertising rates. ************
4] "LEWES & UCKFIELD LIFE" HAS FOLK MUSIC COLUMN
The new free newspaper covering the Mid-Sussex area has a weekly column giving details of events in the area contributed by Vic Smith. Any organiser of events in this area are invited to send photos/biogs/details of events for Vic to include in the column.
************
5] INSTRUMENTAL & VOCAL WORKSHOPS IN LEWES
Valmai Goodyear - valmaigoodyear_at_aol_dot_com - continues to organise some really useful Saturday daytime instrumental work shops in Lewes. The next ones are:-
Oct 11th MOIRA CRAIG & SARAH MORGAN: VOCAL HARMONY WORKSHOP
Nov 22nd BÁRA GRÍMSDÓTTIR - ICELANDIC HARMONY SINGING WORKSHOP Nov 22nd CHRIS FOSTER - GUITAR WORKSHOP
Dec 6th KEITH KENDRICK
Dec 13th NANCY KERR - FIDDLE WORKSHOP
Dec 13th JAMES FAGAN - BOUZOUKI WORKSHOP
************
6] ROCKET RADIO - FOLK MUSIC AND WORLD MUSIC PROGRAMMES.
Rocket Radio will be back in the Lewes area for a three-week period in late October and early November. It will include a 2 hour folk music programme on Wednesday evenings and a 2 hour world music programme on Sunday evenings. Both programmes will be presented by Vic Smith. Information/ gig details/ CDs for inclusion in the programmes to Vic at the address below. +++++++++++++++++++++++

...And if you are ever looking for a good barn dance band, look no further than THE SUSSEX PISTOLS - though you should get in quickly - available dates for 2003 are being snapped up quickly. Website at
www.users.globalnet.co.uk/~tinvic/pistols.htm

Vic & Tina Smith
26 Ferrers Road
LEWES
East Sussex
BN7 1PZ
England

Tel & Fax:- 01273 478124
Email:-
tinvic_at_globalnet_dot_co_dot_uk
folk_at_brighton_dot_co_dot_uk

ROYAL OAK WEBSITE:-
www.users.globalnet.co.uk/~tinvic

SUSSEX FOLK GUIDE WEBSITE:-
whatson.brighton.co.uk/folk

SUSSEX PISTOLS BARN DANCE BAND WEBSITE:-
www.users.globalnet.co.uk/~tinvic/pistols.htm


---
Canterbury Fayre Line Up
Friday 22nd August 2003
MAIN STAGE
Inspiral Carpets - 9pm
Shed Seven - 7.15pm
Ian McNabb - 5.45pm
Adom - 4.45pm
Byrne - 4pm
CROISSANT NEUF STAGE
Space Ritual - 9pm
Tractor - 7.30pm
Guitar George Borowski - 6pm
The Theory - 4.30pm
WHIRL-Y-GIG STAGE
Eat Static - 9pm
Loop Guru - 7pm
OTT - 5.30pm

Saturday 23rd August 2003
MAIN STAGE
Robert Plant - 9pm
Roy Harper - 7.15pm
Incredible String Band - 5.30pm
Deborah Bonham - 4pm
John Otway Big Band - 2.45pm
Theo Travis - 2pm
CROISSANT NEUF STAGE
Willard Grant Conspiracy - 9.30pm
Jackie Leven - 8pm
Nick Harper - 6pm
Eva Abraham - 4.30pm
Alasdair Roberts - 3pm
WHIRL-Y-GIG STAGE
Dreadzone - 8pm
State of Bengal - 6.15pm
The Kumba Mela Experiment - 4.30pm
Le Cod Afrique - 3pm

Sunday 24th August 2003
MAIN STAGE
Love with Arthur Lee - 9pm
Buzzcocks - 7pm
Bob Weir's Ratdog - 4.30pm
Cosmic Rough Riders - 3pm
The Yards - 2pm
CROISSANT NEUF STAGE
Horace X - 9.30pm
Karnataka - 7.30pm
Richard Kid Strange - 6pm
Moses - 4pm
Richard Sinclair and Theo Travis - 2pm
WHIRL-Y-GIG STAGE
Banco de Gaia - 9.15pm
Momo - 7.30pm
Kamel Nitrate - 6pm
Love Grocer - 4.30pm
Seize The Day - 3pm
---