---
KentFolk News

August 2002
---

At last my computers are beginning to recover, but I still have not re-built the latest source of Kent-Folk : I use programs to generate the calendar from venue and group look-up tables and abbreviated event tables.

Now I have the Windows and Linux installations nearly re-built, it is about time to trawl Kent for the latest gigs - send them to me if you have them.

But do check-out Canterbury-Kent.co.uk - you will find the latest gigs here on the interactive calendar, and news and reviews entered by musicians and fans alike on the forum - all you have to do is register.
(If your postcode is not CT, then there will be a short delay while your registration is enabled.)
Musicians in particular, please register, and then you can enter your own gigs.

We have been updating this site frequently in the last few weeks, in response to your comments, and now the on-line shop is starting to go live. Musicians - we would like to sell your CDs on the site over the web - please contact me or the web-master if you are interested. As I say, the intention was for KentFolk to gradually transfer to the Canterbury-Kent site, but these computer problems have hastened the progress. But do not abandon KentFolk entirely, I hope it will come back to life this month - my hardware seems to be OK now, just a case of getting all the software back up (nearly done), and regenerating the latest KentFolk source.

YES, ALL BACK UP AND WORKING !
---
If you have been looking for the session at the George Inn, Stone St. it has for the moment moved back there ...
---
It is Broadstairs Folk Week at the moment, so go enjoy -
The folk week calendar is on the web for the first time, at :
http://www.broadstairsfolkweek.com
Look out in particular for Jetsam Wansum, Wild Turkey, Refried Jinger Jug Band, Bograt, and Tim Edey in any form.
---
Laura Targett the fiddler has returned from walk-about in Australia, so look out for some great gigs.
If you don't want folk week to end, on Saturday you can catch both Tim and Laura, plus some amazing bodhran playing from Lucy Randall, in a Causeway productions event :
---
Monkey Puzzle go Electric
Celtic Rock/World Music
GEORGE INN, Stone Street, Nr. Stelling Minnis. Canterbury, Kent CT4 6DF.
Tel: 01227 709 247.
Start is 9pm.
Saturday 17th August 2002.
free entry
Lucy Randall : Drums, percussion, bodhran
Laura Targett : Fiddle, vocals
Tim Edey : Bouzouki, electric guitars, bass, accordeon, whistle and keyboards.
plus a few special guests
---
Lots of festivals coming up, so check out the festival section of KentFolk, and follow the links to their web pages.
Do not miss Cajunology at the Hop festival, 3pm on Sunday 1st Sept.
---
Shelagh Bradley (Kate's mum) writes :
We have a Shipwrights (afternoon open stage) on Bank Holiday Monday August 26th and hope as many performers will join us as possible.
---
She goes on to say :
Beau can I interest you in promoting an amazing Belgian band called Kadril who are appearing at Queen Elizabeth School Faversham on SATURDAY, August 31st at 2pm tickets £8.00
They play traditional tunes on traditional instruments (Pipes, Fiddle, Accordion, Mandolin, Hurdy-Gurdy, Nyckelharpa) which have been amplified, as well as electric bass and guitar. Their singer is a lovely young lass with a powerful pair of lungs and they are a very pleasant and talented bunch of blokes. I have a full colour poster but I can't send it until Katie gets back from her gig in Madrid tomorrow. (see below ).
The band totally rocked Faversham when they played at the Hop ke Festival last year, they are Belgian's answer to Steeleye Span. I have a double CD of their music if you'd like to hear it anyway, they are well worth hearing - any Steeleye/Albion Band fans out there would find them worth listening to and fascinating to watch.
Tickets are available on 01795 536635 or I can get them from Mike & Ruth.
Thanks Shelagh
Phone Mike on the above number, and then send cheques to Mike Wheeler, Flat 2, 109 West St., Faversham. ME13 7JB. Cheques made payable to Faversham Hop Festival.
---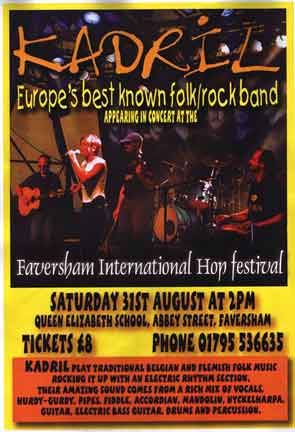 ---
Mike goes on to say that the bash at the Red Lion at Baddlesmere is also all go from 12 noon on the Bank Holiday Monday August 26th. Actually I now hear that this is running all week end, with some top bands kicking off on Saturday lunchtime.
And there are 24 real ales/ciders in the beer tent and pub ...
Enjoyed Pigsears on the Saturday afternoon : Appalachian dulcimer, oboe/recorders, guitar/fiddle, bodhran, percussion, good vocals - all round top quality sound.
Other nice things, including some of his own songs from Bob Simmons :
Dance to the Possible and Look Now.
---
THE RED LION

August 23rd - 26th

FOLK ALE

Friday Night
Pass the Cat

Saturday Night
Jim Leverton & Geoffrey Richardson
( of Caravan and Penguin Café Orchestra )

Folk music throughout the weekend
featuring:
Skynflynt, Pigsears &
Whorticulture (TBC)

Weird Place......


....... Weird People!

The Red Lion Pub
Ashford Road
Badlesmere
Nr. Faversham
Kent. ME13 0NX
Telephone: 01233 740 320
---