---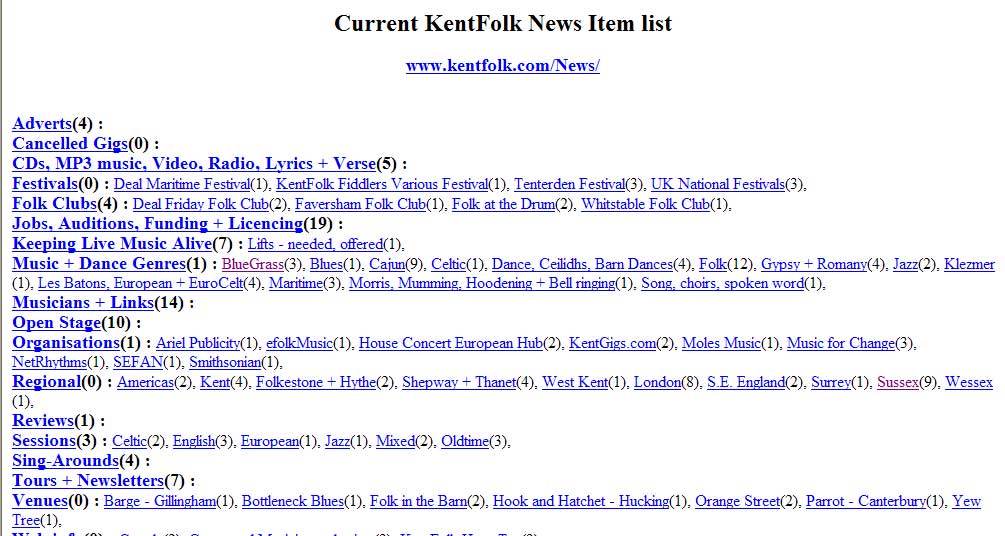 Here is a compact direct-access Contents list for the News pages : www.kentfolk.com/News/contents.html
Total number of Current Month's News Items : 320

---
Hi, Well the new Fiddlers Various venue, the Plough & Harrow in Bridge, seems to be a success - the `Ish gig with Saskia Tomkins & Brendon Scott Besharah could not have fitted one more person in the door, and numerous people said how much they liked both the music and venue :
Lynda Borley
" 'Ish' at Bridge..
Thank you for a wonderful evening...the music and entertainment was unsurpassed, the venue worked very well, the whole company was like being with a bunch of friends in the living room while two other friends jammed happily for us! Oh and the beer was good too! Well done. "
2011-03-29 - Saskia Tomkins & Brandon Scott Besharah - Plough & Harrow, Bridge - Photo Report
For video of the 'Ish Ramsgate gig, see :
2011-03-26 - Saskia Tomkins & Brandon Scott Besharah - Ramsgate - Video Selections
Currently, the next Fiddlers Various gig in the Plough & Harrow is not until June, but there is a fiddle-led gig sooner : Selkie are playing in the Plough Harrow on Wednesday 6th April.
Cheers,
Beau
---
The excellent music shop Hobgoblin now has a presence in Canterbury :
Hobgoblin Music,
22 Lower Bridge Street,
Canterbury, KENT,
CT1 2LG

Tel: (01227) 769484
Fax: (01227) 769541
E-mail: sales_at_hobgoblincanterbury_dot_co_dot_uk
Or visit: www.hobgoblin.co.uk
for more info see the news item below in the Folk Genre.
---
To send info to KentFolk see the KentFolk How-To news items listed below :
Web info
......| KentFolk How-Tos
......| ......| How to send event items for the KentFolk Calendars.html
......| ......| How to send news items for the KentFolk News pages.html
......| ......| Images - emailing efficient formatted announcements with photos, posters and flyer.htm
......| ......| The lazy way to send a news item to KentFolk with embedded images and fancy text.htm
......| ......| Using MS Word to create a KentFolk News item with embedded images and fancy fonts..htm

KentFolk now has a Facebook presence; see :
www.facebook.com/pages/KentFolk/290937071592
and I am flagging some breaking news there.

Check out the KentFolkVideo page on YouTube.
---

A KentFolk iGoogle Gadget that you might find useful if you have an iGoogle home page :
Want rapid access to info on the Kentish music scene ?
Add "KentFolk.com for Live Music in Kent" to your iGoogle page.
Click on the [+Google] button to add this KentFolk Gadget to your iGoogle homepage.
It will help take you into the depths of the KentFolk site, hopefully directly to the pages most relevant to your interests.
Scroll down on the Gadget to see the latest news item high-lights, without even having to leave your iGoogle home page.
---
Multi-level directories of News :
Do keep sending me items for both the calendar and this news section -
Please see the info at the bottom of the news pages for guidance as to good formats to send me news items for these pages - large .jpg files are not easy to use - and also for suitable formats for event listings for the calendars.
cheers, Beau.
---

Adverts
Cancelled Gigs
CDs, MP3 music, Video, Radio, Lyrics + Verse
......| 2011-04-05 - Pete Fyfe review Sleeve.htm
......| 2011-04-06 - Pete Fyfe - Live Review.htm
......| 2011-04-06 - Pete Fyfe review Sleeve.htm
......| Kentish Hops - Book and CD.htm
......| Simon Evans - BBC Radio Kent - listen at any time.html
Festivals
......| 2011-02-10 - Are you promoting a Festival Skiddle can help....txt
......| Broadstairs Folk Week
......| ......| 2011-02-03 - Broadstairs Folk Week Leaflet.htm
......| ......| 2011-02-03 -BFW LEAFLET INNER 2011.pdf
......| ......| 2011-02-03 -BFW LEAFLET OUTSIDE 2011.pdf
......| Canterbury Festival
......| Deal Festival of Music and the Arts
......| Deal Maritime Festival
......| ......| Deal LifeBoat House shanty singing - 2003 - MP3 downloads available.txt
......| Faversham Hop Festival
......| KentFolk Fiddlers Various Festival
......| ......| 2011-03-11 - New Venue for Fiddlers Various in 20011, New Events.html
......| ......| 2011-04-02 - Comment posted on 2011-03-26 - `Ish - Saskia Tomkins Brandon Scott Besharah - Ramsgate.htm
......| Other Kentish Festivals
......| ......| 2011-03-31 - Two cities April 2011.htm
......| ......| 2011-03-31 - Two cities April 2011.pdf
......| ......| 2011-03-31 - Two Cities prog Rochester april.pdf
......| Rochester Sweeps Festival
......| ......| 2011-04-20 - Sweeps.htm
......| ......| 2011-04-20_sweepsprog_2011_FINAL.pdf
......| Tenterden Festival
......| ......| 2011-02-06 - TFF News Feb 11.htm
......| ......| 2011-03-04 - TFF has a new website.htm
......| ......| 2011-03-08 - An Evening with Jim Causley and friends in Tenterden.htm
......| UK National Festivals
......| ......| 2011-01-19 - Oxford May Music Festival 27th April - 2nd May 2011.htm
......| Wye Fayre
Folk Clubs
......| 2011-01-24 - 2nd + 4th Wednesdays - Admiral Owen - Sandwich.htm
......| Crabble Mill Folk Club
......| ......| 2011-04-25 - CRABBLE CORN MILL 29th April.htm
......| Deal Friday Folk Club
......| Drum Folk Club
......| ......| 2011-02-23 - Drum website - at last.htm
......| ......| 2011-03-05 - FOLK AT THE DRUM (FATD) WEBSITE.htm
......| ......| 2011-04-06 - DEBRA COWAN JOHN ROBERTS - 7 APRIL 2011.htm
......| Egerton Folk Club.htm
......| Faversham Folk Club
......| ......| 2011-01-11 - General listings from Faversham Folk Club.htm
......| Monthly_Folk-Club_list.html
......| SEFAN 2011-03-30_01 EVENTS - Lewes Saturday Folk Club - change of venue and APRIL listings.htm
......| Walthamstow Folk Club
......| ......| 2011-03-30 - Walthamstow Folk - April.htm
......| ......| 2011-04-21 - Walthamstow Folk.htm
......| Whitstable Folk Club
......| ......| 2009-02-11 - Find Whitstable Folk Club on Team.KentFolk.htm
Graphics
Jobs, Auditions, Funding + Licencing
......| 2001-03-03_01 (1)EFDSS re Live Music Bill - help urgently requested. (2)CALL OUT Morris musician needed - short term (volunteer).htm
......| 2008-12-29 - The Licensing Act 2003 is destroying live music in Kent.html
......| 2009-01-19 - The Publican - Home - Pubs closing at rate of 39 per week.htm
......| 2009-01-20 - Licensing enquiry - Loss of live music - our ref +++570.txt
......| 2009-07-28 - SCoFFnews Petition to No 10.htm
......| 2009-08-03 - LIVE MUSIC LICENSING.htm
......| 2010-01-05_Consultative-document_exempt_small-live-musicevents.pdf
......| 2010-01-05_Licensing Exemption discussion.txt
......| 2010-01-05_Licensing_Exemption_discussion.html
......| 2010-01-07_Licencing_Exemption_discussion-continued.html
......| 2010-05-06 - The Green Room Summer Theatre School.html
......| GigList_DateCount.pdf
......| Public Entertainment Licensing Act (2003) - prior news items.txt
......| SEFAN 2008-03-24_03 IMPORTANT Certificate of Sponsorship (CoS).htm
......| SEFAN 2009-07-10_03 The Event Safety Guide (The Purple Guide).htm
......| SEFAN 2010-01-29_02 V A Instrument Collection Petition.htm
......| SEFAN 2011-01-04_01 two bands looking for touring opportunities in 2011.htm
......| SEFAN 2011-01-05_02 GLEANINGS.htm
......| SEFAN 2011-01-11_01 The Contenders A battle for the Arts Foundation Award of 10000.htm
......| SEFAN 2011-01-19_02 GLEANINGS from Making Music SE eBulletin.htm
......| SEFAN 2011-03-17_02 GLEANING from ArtsJobs and item from Surrey Storytellers Guild.htm
......| SEFAN 2011-03-18_01 GLEANINGS from Making Music Voluntary Arts.htm
......| SEFAN 2011-03-28_02 Call for help from Jigjaw - GLEANINGS from VAE - Beau Webber - Update on Early Day motion.htm
......| SEFAN 2011-03_07_03 GLEANINGS.htm
......| SEFAN 2011-04-04_01 CALL OUT and MAY DAY Campaign news.htm
......| SEFAN 2011-04-24_01 CALL OUT - Barndance Band May 14th. KENT.htm
......| SEFAN 2011-04-28_01 MAKING MUSIC Intro to Audience Development Seminar Sat 7 May pm Tunbridge Wells.htm
......| The Licensing Act 2003 is destroying live music in Kent.html
Keeping Live Music Alive
......| 00 - 2009-01-22 - Keeping the Live Music Alive.htm
......| 01 - 2008-12-29 - The Licensing Act 2003 is destroying live music in Kent.html
......| 02 - 2008-12-29 - GigList_DateCount.pdf
......| 19 - SEFAN 2008-12-03_03 actionformusic Form 696 - E Petition.htm
......| 2009-01-20 - Licensing enquiry - Loss of live music - our ref +++570.txt
......| 2009-02-07 - Governments proposed - Code of Practise - for pubs.htm
......| 2009-03-28 - RE How to get more live music in the pubs ! Kentish Gazette, 26th March 2009.htm
......| 2011-01-08 - ANOTHER GOOD LIVE BAND MUSIC VENUE BITES THE DUST.htm
......| 2011-03-27 - Early Day motion and proposed changes to the Licensing Act 2003 - hopeful.htm
......| 2011-03-28 - When booking please bear this in mind.htm
......| 2011-04-18 - PUB CLOSURE RATE SLOWING - BUT STILL SERIOUS.htm
......| Lifts - needed, offered
......| ......| 2009-02-16 - lift needed - Deal or Dover to the Drum, North Stansted, any Thursday.txt
Music + Dance Genres
......| Americana, BlueGrass + Old Time
......| ......| 2011-03-21 - Rachel Harrington - Available Dates AugSept 2011.htm
......| ......| 2011-03-23 - South East England Bluegrass Old-Time Music.htm
......| ......| 2011-03-24 - mailout 24th March.htm
......| ......| 2011-03-29 - South East England Bluegrass Old-Time Music .htm
......| ......| 2011-03-31 - mailout 31st March.htm
......| ......| 2011-04-02 - Bluegrass - Extra + Correction.htm
......| ......| 2011-04-21 - FOAOTMAD mailout 21st April.htm
......| ......| 2011-04-26 - BluegrassOldtime EXTRA.htm
......| ......| 2011-04-26 - South East England Bluegrass Old-Time Music .htm
......| ......| 2011-04-28 - FOAOTMAD mailout 28st April.htm
......| Blues
......| ......| 2011-03-04 - Bottleneck Blues Club.htm
......| Cajun
......| ......| 2011-02-18 - CAJUN ROOSTERS cajunbarn change of venue and date.htm
......| ......| 2011-03-03 - Mardi Gras Dance this Saturday.htm
......| ......| 2011-03-19 - Cajun Roosters at Mick Jagger centre.htm
......| ......| Cajun + Zydeco Dance Workshops 2010 - Whitstable.html
......| ......| Cajun website and email list.html
......| Celtic
......| ......| 2011-02-16 - Irish Music Forever Update.htm
......| ......| 2011-02-17 - Happy St Patrick's Day.htm
......| ......| 2011-03-10 - Irish Music Forever Updates.htm
......| ......| 2011-03-15 - Sally Ironmonger Trio.htm
......| ......| 2011-07 - Selkie gigs.htm
......| ......| Monthly Session list.html
......| Classical
......| Dance, Ceilidhs, Barn Dances
......| ......| 2010-03-01 - Canterbury Folk Dance Club.htm
......| ......| 2011-03-04 - Ickham Barn Dance.htm
......| ......| 2011-03-16 - Bluegrass - EXTRA.htm
......| ......| Bluegrass - even more.htm
......| ......| Bluegrass - yet more.htm
......| ......| Dance School in Maidstone.htm
......| ......| Kentish Hops - Book and CD - Dances.htm
......| ......| SEFAN 2011-02-28_01 Dance Round Up for week beginning Monday Feburary 28th.htm
......| ......| SEFAN 2011-03-14_01 Dance Round Up for week beginning Monday March 14th .htm
......| ......| SEFAN 2011-03-22_01 Dance Round Up for period Mon. March 21st - Sun April 10th.htm
......| ......| SEFAN 2011-03-28_01 Dance Round Up for week beginning Monday March 28th toank Holiday Monday May 2nd.htm
......| ......| SEFAN 2011-04-04_02 Dance Round Up for week beginning April 4th.htm
......| ......| SEFAN 2011-04-25_01 Dance Round Up Monday April 25th to Sunday May 8th.htm
......| ......| SEFAN 2011-04-25_03 Re SEFAN 2011-04-25_01.ii Dance Round Up Rochester Sweeps - addenda.htm
......| Folk
......| ......| 2010-12-15 - Dates from Doug Hudson.htm
......| ......| 2010-12-20 - Hello from Hobgoblin Canterbury.htm
......| ......| 2011-01-06 -Concert and Workshops in Ramsgate 5 of MArch.htm
......| ......| 2011-01-13 - Feast of Fiddles Spring Tour.htm
......| ......| 2011-02-07 - Selkie gigs.htm
......| ......| 2011-02-26 - Ron Trueman-Border News up-date.htm
......| ......| 2011-03-02 - Katriona Gilmore and Jamie Roberts .htm
......| ......| 2011-03-04 - Bowstring Boys back at the Sun.htm
......| ......| 2011-03-10 - Festival of Two Cities.htm
......| ......| 2011-03-10 - Two cities April 2011.htm
......| ......| 2011-03-10 - Two cities April 2011.mht
......| ......| 2011-03-10 - Two cities April 2011.pdf
......| ......| 2011-03-11 - Please vote for the Annie K. track in the International Songwriting Competition.htm
......| ......| 2011-03-15 - Sally Ironmonger Trio.htm
......| ......| 2011-03-16 - RT-B extra gig tomorrow- 17th March.htm
......| ......| 2011-03-22 -The River Gypsies gig.htm
......| ......| 2011-04-06 - skyhook gigs.htm
......| ......| SEFAN 2011-02-08_02 EFDSS Archive folk music material now available online.htm
......| ......| SEFAN 2011-02-17_01 EVENTS APPLAUSE RURAL TOURING Spring dates.htm
......| ......| SEFAN 2011-04-26_02 EVENTS Applause Rural Touring..htm
......| Gigs from Facebook
......| Gypsy + Romany
......| ......| 2011-03-06 - The 3rd annual LGO culture day on 19th March 2011.htm
......| ......| 2011-03-15 - This week LGO + special reccommendation.htm
......| ......| 2011-04-22 - Paul Vernon Chester and Nick Mellor - Live at the Lichfield Theatre Friday 10th June @ 7.30pm.htm
......| ......| London Gypsy Orchestra Musicians.htm
......| Instrumental
......| ......| 2011-02-15 - concert and workshops in Ramsgate.htm
......| ......| 2011-02-18 - Fiddle Hangout News - Groups Features Workshops and More.htm
......| ......| 2011-03-01 - Performance Poster.htm
......| ......| 2011-03-01 - Performance Poster.pdf
......| ......| 2011-03-03 - SYM in concert + nyckelharpa, violin & Hardanger fiddle workshops - 5th Marchs.txt
......| ......| 2011-03-15 - Fiddle Hangout News - Megan Lynch Workshop Carbon Fiber Bow Drawing New Shirts and More.htm
......| ......| 2011-04-08 - Ish - Saskia Tomkins & Brandon Scott Behara.html
......| ......| WShop poster.pdf
......| Jazz
......| ......| 2011-02-19 - Advert for jazz musicians.htm
......| ......| 2011-03-31 - King Pleasure the Biscuit Boys - Jazz at The Brook Theatre.htm
......| ......| Hot Club Jazz at St Julians Sevenoaks.htm
......| ......| Open Mic Jazz Singers Night.htm
......| Klezmer
......| ......| 2011-04-22 - She'Koyokh Klezmer dates for your diary.htm
......| Les Batons, European + EuroCelt
......| Maritime
......| ......| 2011-03-16 - Short Sharp Shanties - CD launch.htm
......| ......| CONTINUATION OF THE SHANTY CREW.htm
......| ......| Deal LifeBoat House shanty singing - 2003 - MP3 downloads from KentFolk and eFolkMusic.txt
......| ......| The maritime tradition.htm
......| Morris, Mumming, Hoodening + Bell ringing
......| ......| 2009-07-29 - Woodchurch Morris Men.htm
......| ......| SEFAN 2011-03-24_02 CALL OUT Information on Morris folk events over May Day (and St. George's Day) sought.htm
......| Roots + World
......| Song, choirs, spoken word
......| ......| 2010-12-30 - 6 sessions-sing for the joy(Brighton) with Juliet Russell begin Jan 4th-EVERYONE WELCOME.htm
......| ......| 2011-03-17 - Choir Camp Friday 17th June to Sunday 19th June.htm
......| ......| SEFAN 2010-12-20_02 EVENTS and WORKSHOPS from Surrey StoryTellers Guild. .htm
......| ......| SEFAN 2011-01-13_02 Storytelling events and Workshops in Surrey Spring 2011.htm
......| ......| SEFAN 2011-03_02 EVENTS (3 posts) Spoken Word Story. Performance and Workshops. Surrey London.htm
Musicians + Links
......| 2008-11-05 - Kai Tonjes instruments - New workshop.htm
......| 2008-12-22 - High Weald Ridge - Bluegrass.txt
......| 2008-12-28 - porch swing blues gig list.htm
......| 2009-04-29 - Link Exchange Request.txt
......| 2009-07-29 - Tony Lesurf (drums,Bodhran & backing vocals).htm
......| 2009-09-10 - Alison Rowley - caller, fidlder.htm
......| 2010-02-07 - George Chater.htm
......| 2010-02-23 - Goosebumps.txt
......| 2010-03-08 - Sarah Reed - Gig list and CDs.htm
......| 2010-03-13 - link exchange request - music instruments sites.htm
......| 2010-03-14 - Mike Heron - ISB - Uncut Magazine.htm
......| 2010-04-07 - The Jones Boys.txt
......| 2010-05-04 - Stephen John Morse + Bleak Angel.txt
......| 2011-03-05 - Abbey Capers - Update on the band.htm
......| Graham Corbould - singer-songwriter.htm
......| Phil Thorne -acoustic country blues .htm
......| Raglan Road.htm
......| Ratalaz - eFolkMusic.txt
......| Tony Cox - virtuoso guitarist.htm
Open Stage
......| 2009-05-25 - Two new open stages.txt
......| 2009-07-21 - Sunday Open Mic Night at The Sondes Arms, Selling.htm
......| 2009-07-21 - Sunday Open Mic Night at The Sondes Arms, Selling.pdf
......| 2009-07-23 - Open Stage info update fron CJ.htm
......| 2010-01-14 - Greenwich - fridaymic.com.htm
......| CJ's open mic nights.txt
......| Jack Pound's Open Stage.txt
......| Monthly Open Stage list.txt
......| Open Mic Nights - Chislehurst - hosted by the Missouri Gutts.htm
......| Open Stage - Phil for cj.htm
......| SEFAN 2008-04-02_02. Open Mike at The Pig Butcher (formanlly The Fireman's).htm
Organisations
......| Ariel Publicity
......| EFDSS
......| ......| 2011-03-23 - Cecil Sharp Project.htm
......| ......| EFDSS awarded Arts Council England National portfolio funding for three years.htm
......| ......| SEFAN 2011-01-20_01 EFDSS - National folk archive launches online catalogue.htm
......| ......| SEFAN 2011-03-29_01 EFDSS project 'The Full English' awarded funding by Heritage Lottery Fund.htm
......| ......| SEFAN 2011-03-31_02 EFDSS APRIL listings.htm
......| ......| SEFAN 2011-03_08_01 EFDSS APRIL Listings.htm
......| efolkMusic
......| ......| 2011-03-01 - efolkMusic Artist Update 3.01.2011.htm
......| ......| 2011-03-16 - efolkMusic News and Mini-Beg-a-thon 03.17.2011.htm
......| ......| 2011-04-23 - Smithsonian Folkways Free MP3s.htm
......| FAE - Folk Arts Network
......| House Concert European Hub
......| ......| 2011-04-05 - Check out FSR Radio broadcasting Southern Tenant Folk Union Michael Weston King Red Hook Rapids Concert.htm
......| ......| 2022-04-22 - Happy Easter Everyone (Kete Bowers Featured Artists on the House Concert Hub.htm
......| Indie Contact
......| KentGigs.com
......| ......| 2011-03-01 - News and Gigs Wotson 13th to 19th March 2011 - Kent E Sussex Gig Guide.htm
......| ......| 2011-03-08 - News and Gigs Wotson 20th to 26th March 2011 - Kent E Sussex Gig Guide.htm
......| ......| 2011-03-1 - News and Gigs Wotson 27th March to 2nd April 2011 - Kent E Sussex Gig Guide.htm
......| ......| 2011-03-22 - News and Gigs Wotson 3rd April to 9th April 2011 - Kent E Sussex Gig Guide.htm
......| ......| 2011-03-28 - News and Gigs Wotson 10th April to 16th April 2011 - Kent E Sussex Gig Guide.htm
......| ......| 2011-04-05 - News and Gigs Wotson 17th April to 23rd April 2011 - Kent E Sussex Gig Guide.htm
......| ......| 2011-04-19 - News and Gigs Wotson 1st May to 14th May 2011 - Kent E Sussex Gig Guide.htm
......| ......| 20111-02-21 - News and Gigs Wotson 6th to 12th March 2011 - Kent E Sussex Gig Guide.htm
......| Making Music
......| Moles Music
......| Mrs Casey Music
......| Music for Change
......| NetRhythms
......| ......| 2011-03-02 - NetRhythms and the music we love.txt
......| SCoFF
......| SEFAN
......| ......| SEFAN 2011-01-12_01 NEW LOOK to the SEFAN eBulletins.htm
......| ShivaNova
......| ......| 2011-02-22 - Equator World Music Events.htm
......| ......| 2011-03-01 - Equator music and dance series 2011- Kent and London Southbank Centre.htm
......| Skiddle
......| Smithsonian
......| ......| 2011-03-17 - Western Classical Balinese Gamelan and Indian Music.htm
......| VAE - Voluntary Arts England
......| WeGotTickets
......| ......| 2011-03-11 - WeGotTickets for Dum Dum Girls Marina Celeste (Nouvelle Vague) Metronomy Underage Festival....htm
......| ......| 2011-03-18 - WeGotTickets for Electrelane These New Puritans Sophie Ellis-Bextor Imelda May Kurt Vile more.htm
......| ......| 2011-04-05 - Part 2 of our pick of Festivals for 2011.txt
......| ......| 2011-04-29 - Washed Out Boris and Russian Circles Black Dice Hawkwind Fresh Onlys and more.htm
Regional
......| Americas
......| ......| 2011-03-23 - MNN Daily News for March 23 2011.htm
......| ......| 2011-04-05 - MNN Daily News for April 5 2011.htm
......| Essex
......| Europe
......| Hampshire
......| Ireland
......| Kent
......| ......| 2009-03-20 - State of play in Canterbury pubs.html
......| ......| 2011-03-15 - News and Gigs Wotson 27th March to 2nd April 2011 - Kent E Sussex Gig Guide.htm
......| ......| 2011-03-22 - News and Gigs Wotson 3rd April to 9th April 2011 - Kent E Sussex Gig Guide.htm
......| ......| 2011-03-28 - News and Gigs Wotson 10th April to 16th April 2011 - Kent E Sussex Gig Guide.htm
......| ......| 2011-04-05 - News and Gigs Wotson 17th April to 23rd April 2011 - Kent E Sussex Gig Guide.htm
......| ......| 2011-04-19 - News and Gigs Wotson 1st May to 14th May 2011 - Kent E Sussex Gig Guide.htm
......| ......| Folkestone + Hythe
......| ......| ......| 2011-03-31 - At-Beat-newsletter-April2011.pdf
......| ......| ......| 2011-04-21 - Art Beat - May 2011.htm
......| ......| ......| 2011-04-21 - Art-Beat-newsletter-May2011.pdf
......| ......| ......| Folkestone + Hythe - News + Events.htm
......| ......| SEFAN 2011-03-30_02 EVENTS - APRIL (2 posts) KENT.htm
......| ......| Thanet
......| ......| West Kent
......| ......| ......| 2011-03-31 - April PigNews.htm
......| ......| ......| West Kent - News + Events.htm
......| London
......| ......| 2011-02-04 - Fri sess at Keenan's starts Fri 4 Feb New music classes at Morley College The London Lasses at Walthamstow Sun 20 Marc.txt
......| ......| 2011-03-21 - The Magpies Nest is 5 - Plus a Fistful Of Twisted Folk and Festival Of Britain.htm
......| ......| 2011-03-24 - Trad Gathering at Royal Festival Hall Sat 7 May Unsung Heroes Award Register your Irishness in the census - 27 March.htm
......| ......| 2011-03-28 - MUSICAL TRADITIONS CLUB Spring 2011 and Keith Summers Festival .htm
......| ......| 2011-03-28 - The Magpie's Nest turns 5 - plus Bank Holiday Alldayer busking on the Southbank.htm
......| ......| 2011-04-27 - Safari Britain announced for May plus Old Queens Head Camden Crawl this weekend.htm
......| S.E. England
......| ......| 2011-04-26 - South East England Bluegrass Old-Time Music .htm
......| ......| SEFAN 2011-03-23_02 EVENTS (2 posts) Sussex Surrey.htm
......| ......| SEFAN 2011-03-24_01 EVENTS (3 posts) Sussex London.htm
......| ......| SEFAN 2011-04-19_01 EVENTS (3 posts) SUSSEX and KENT.htm
......| ......| SEFAN 2011-04-25_02 EVENTS (3 posts) .htm
......| Scotland
......| Suffolk
......| Surrey
......| Sussex
......| ......| 2011-03-28 - Twice Knightley in Alfriston and information updates.htm
......| ......| 2011-04-05 - TEN ITEMS OF FOLK MUSIC NEWS FROM LEWES FOR APRIL.txt
......| ......| 2011-04-28 - Ticket update Piaf and Fairport.htm
......| ......| Acoustic Sussex Newsletter 2011-03-27.htm
......| ......| Acoustic Sussex Newsletter 2011-04-05 - Cara Dillon last remaining tickets.htm
......| ......| Acoustic Sussex Newsletter 2011-04-23.htm
......| ......| Acoustic Sussex Newsletter 2011-04-27 - Royal Wedding special.htm
......| ......| SEFAN 2011-04-05_01 EVENTS @ The De La Warr Pavilion Sussex.htm
......| ......| SEFAN 2011-04-22_01 EVENTS (3 posts) sussex.htm
......| UK National
......| ......| SEFAN 2011-04-05_02 The Stables Milton Keynes - Upcoming in April and May. Bucks.htm
......| Wessex
......| ......| 2011-03-23 - Wessex Acoustic - Phil Beer.htm
......| World
Reviews
......| 2010-01-20 - Review of Pete Cooper's - American Old Time Fiddle Tunes.html
......| 2010-08-29 - Pete Fyfe - Book Review.htm
Sessions
......| 2009-09-01 - Bluegrass+Old-Time - new session.htm
......| 2010-03-13 - Black Horse session - now ended.htm
......| 2011-04-05 - Gun and Spitroast traditional music class on the 13th April.htm
......| 2011-04-22 - Gun and Spitroast traditional music class on the 27th April.htm
......| A plea for new players at traditional sessions - particularly younger players.html
......| Americana
......| ......| 2011-04-21 - americana bank hol monday x.htm
......| Bell+Jorrocks
......| ......| 2010-09-20 - Frittenden session info.txt
......| ......| 2011-01-21 - session tunes available - Gun Spitroast Horsmonden 26th January.htm
......| ......| 2011-03-03 - Gun and Spitroast traditional music class on Wednesday this coming week.htm
......| ......| 2011-03-16 - Gun and Spitroast traditional music class on Wednesday.htm
......| Celtic
......| ......| 2011-02-08 - Celtic Sessions - update.htm
......| English
......| ......| 2009-05-21 - Bell + Jorrocks sessions go regular.htm
......| ......| Doddington Music Session.htm
......| ......| SEFAN_2007-11-27_02.ANOUNCE. Lewes Favourites sessions 2008 supplement books.htm
......| European
......| ......| 2009-06-12 - New French session Bekesbourne Sunday July 5th.htm
......| Jazz
......| ......| Hot Club Jazz - session - at St Julians Sevenoaks.htm
......| Mixed
......| ......| 2010-08-23 - Tartar Frigate session.htm
......| ......| 2011-03-03 - Music Sessions at the Farriers Arms, Mersham - 2nd Tuesdays .txt
......| ......| Woodshed session - Tune + song list .htm
......| Monthly Session list.html
......| Oldtime
......| ......| 2010-01-06 - Old time session.htm
......| ......| 2010-02-02 - session.htm
......| What tunes do they play at the different sessions.txt
Sing-Arounds
......| 2010-04-04 - Sing-arounds in Maidstone.htm
......| 2010-05-19 - Folk at The Foresters.htm
......| 2011-02-02 - Tenterden Folk Club has moved.htm
......| 2011-04-27 - New singaround near Lenham starting this Thursday 28th April.txt
......| Folk Sing Around at the Chequers, Ash.txt
......| Monthly Sing-Around list.txt
Tours + Newsletters
......| 2011-03-23 - Show of Hands Spring Tours.htm
......| 2011-03-28 - Feast of Fiddles Spring Tour.htm
......| 2011-04-05 - Urban Folk - Spring Tour Diary Film.htm
......| 2011-04-18 - JUNE SHOWS inaround LONDON.htm
......| 2011-04-19 - Royal Albert Hall 2012.htm
......| 2011-04-23 - Dutch's No.1 jive swing band Jazz Connection England Tour April 2012.htm
Venues
......| Anchor Inn - Littlebourne
......| Astor Theatre
......| Barge - Gillingham
......| ......| 2011-04-25 - Monthly Gig List (May 2011).txt
......| Barnaby Rudge - Broadstairs
......| Beer Cart Arms
......| Belgian Cafe - Ramsgate
......| Bottleneck Blues
......| ......| 2011-03-23 - Bottleneck Blues Club.htm
......| Caseys
......| Central Theatre - Chatham
......| Chambers - Folkestone
......| Cullins Yard
......| Dove at Dargate
......| Evenhill - Littlebourne
......| Folk in the Barn
......| ......| 2011-03-24 - From Canterbury to the Himalayas.txt
......| ......| Folk in the Barn - Contacts for tickets.txt
......| ......| New Payment option.txt
......| Folkus - Medway
......| Gulbenkian
......| ......| 2011-03-17 - The Grand Slambovians at The Gulbenkian.htm
......| ......| 2011-03-21 - Music Listings Summer 2011.htm
......| ......| 2011-03-28 - Gulbenkian Newsletter - 28 Mar.htm
......| ......| 2011-04-15 - Dervish at The Gulbenkian.htm
......| ......| 2011-04-20 - Gulbenkian Newsletter - 20 Apr.htm
......| ......| 2011-04-27 - The Gulbenkian - Music Listings on Kent Folk.htm
......| ......| SEFAN 2011-03-17_01 The Grand Slambovians at The Gulbenkian KENT. .htm
......| Hook and Hatchet - Hucking
......| HorseBridge - Whitstable
......| Louis Armstrong - Dover
......| Man of Kent Alehouse - Rochester
......| Marlow
......| New Venues
......| Orange Street
......| Parrot - Canterbury
......| Pizza Express
......| Rose + Crown - Canterbury
......| Soul Cafe Maistone
......| The Chambers - Folkestone
......| Three Mariners at Oare
......| Trinity Theatre
......| Wrotham Arms - Broadstairs
......| Yew Tree
......| ......| 2010-02-15 - Yew Tree boarded up.htm
Web info
......| Google
......| ......| Google Advertising.html
......| ......| Google Calendars.html
......| Group and Musician web-sites
......| ......| 2008-12-05 - Cellar Upstairs new website.txt
......| ......| 2010-01-30 - A number of Kentish groups also have web pages on Team-KentFolk - add yours.txt
......| ......| 2010-01-30 - Florida web site, also on Team-KentFolk.txt
......| KentFolk How-Tos
......| ......| How to send event items for the KentFolk Calendars.html
......| ......| How to send news items for the KentFolk News pages.html
......| ......| Images - emailing efficient formatted announcements with photos, posters and flyer.htm
......| ......| The lazy way to send a news item to KentFolk with embedded images and fancy text.htm
......| ......| Using MS Word to create a KentFolk News item with embedded images and fancy fonts..htm
Workshops
......| 2009-01-25 - Lewes Saturday Folk Club - new web-site + workshop details .htm
......| 2011-02-04 - Music Workshops.htm
......| 2011-04-05 - Gun and Spitroast traditional music class on the 13th April.htm
......| SEFAN 2011-01-04_01 Lewes Saturday Folk Club 4 x SPRING 2011 WORKSHOPS .htm
......| SEFAN 2011-01-13_02 Storytelling events and Workshops in Surrey Spring 2011.htm
......| SEFAN 2011-02-04_02 Workshopping opportunities from non-members.htm
......| SEFAN 2011-03-23_01 Making Music upcoming seminars and Training Events.htm
......| SEFAN 2011-03-31_03 EVENTS (3 posts) Workshops SUSSEX LONDON.htm


---
---
---