Fiddlers Various 2007

2007-06-08 to 11

Tommy Peoples tour
South East England - 2007
---

Master Irish fiddler Tommy Peoples from Donegal accepted an invitation from KentFolk to visit the South East of England in the Summer of 2007, as a Fiddlers Various special event.
Tommy Peoples is, quite simply, a living legend, the greatest exponent of the driving Donegal style which is his hallmark.
Catharine Kingcome, who has painted many Irish musicians in addition to a picture about Tommy, and is a fiddler herself, says of Tommy : "in my opinion probably the best trad Irish fiddle player there's ever been".

With nearly a month to go, Valmai Goodyear of Lewes Folk Club in Sussex wrote :
"A quick note to confirm that Tommy's daytime workshop and evening performance at the Lewes Arms are both sold out. I am keeping a waiting list in case of cancellations ..."

In the run-up to Tommy's visit, on Sunday 27th Simon Evans of BBC Radio Kent gave a good mention of Tommy's tour, and played a track from the Bothy Boys album featuring Tommy on fiddle. On Sunday June 3rd Simon gave Tommy a further mention, and played a track from his album "The Quiet Glen" - Thanks Simon - Beau

Tommy People's tour began with a concert on Wednesday 6th June in Newport, Wales, organised by Fran.
The next concert was organised by Karen Ryan, on Friday 8th, and was at the London Irish Centre, Camden, which was sold out to a very knowledgeable and enthusiastic capacity crowd of 120.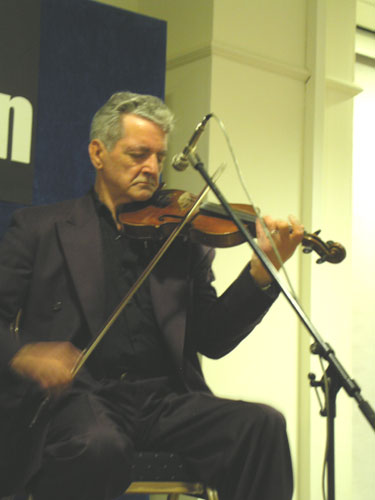 KIF 2947 Tommy-Peoples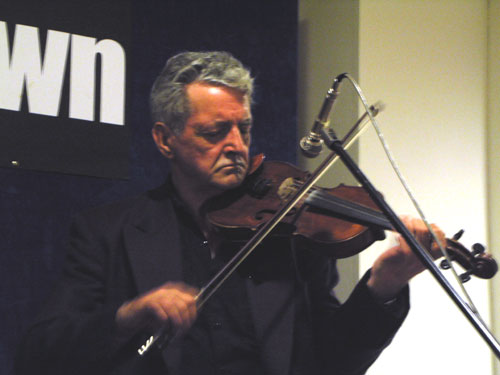 KIF 2981 Tommy-Peoples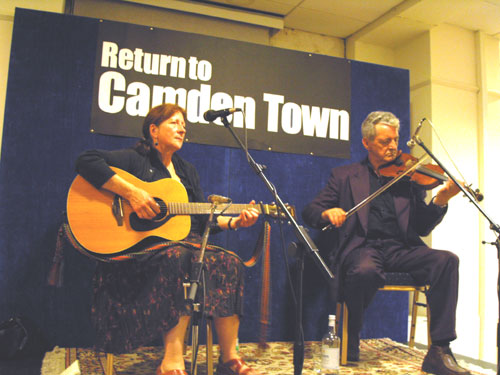 KIF 2986 Tommy-Peoples_Mary-McGannon
Tommy was unexpectedly accompanied on the guitar by an old friend from Co. Clare, Mary McGannon who just happened to be down from Scotland at the time.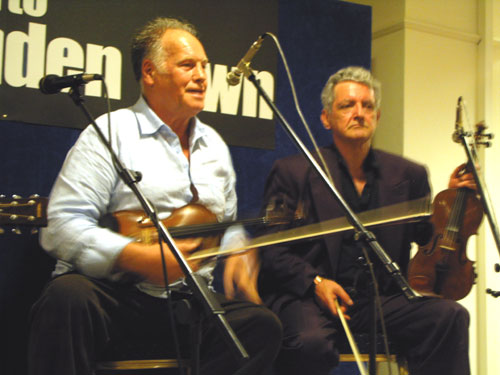 KIF 2987 Tommy-Peoples_Danny-Meehan
Fiddler Danny Meehan (a fellow Donegal man who has been resident in London for many years) joined Tommy on stage for a spirited few numbers.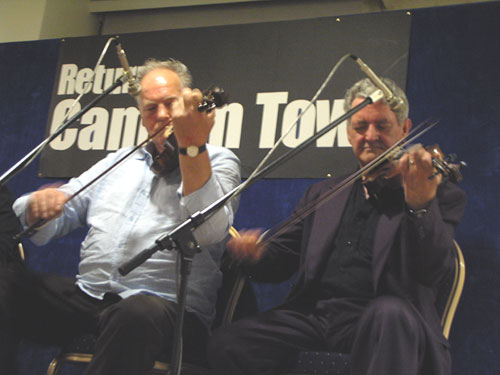 KIF 2997 Tommy-Peoples_Danny-Meehan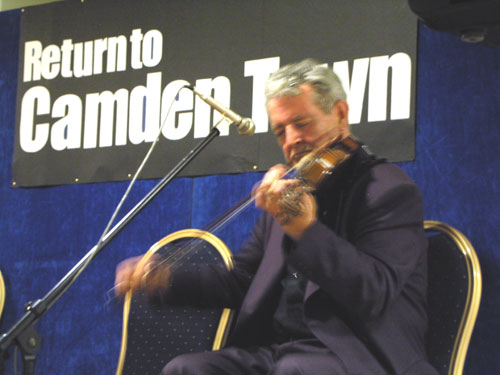 KIF 3002 Tommy-Peoples_rtct
Karen Ryan of The London Lasses writes: " ... it was fantastic to hear Tommy's playing up close again."
Saturday 9th saw Tommy Peoples giving an all day fiddle workshop to a capacity group of 20 advanced students at The Lewes Arms, Lewes, Sussex. The Lewes Arms workshops and Folk Club are organised by Valmai Goodyear.
Tommy started the workshop by working on his piece "Julia Devine" - complex, in I think 4 parts, with 2 of the parts having 2 different endings. By mid-afternoon, I, just a listener, was exhausted, and so were most of the students. The final part of the workshop was nominally on ornamentation, but mostly ended up as an interview of Tommy by the students.


KIF 3012to14 Tommy-Peoples workshop panorama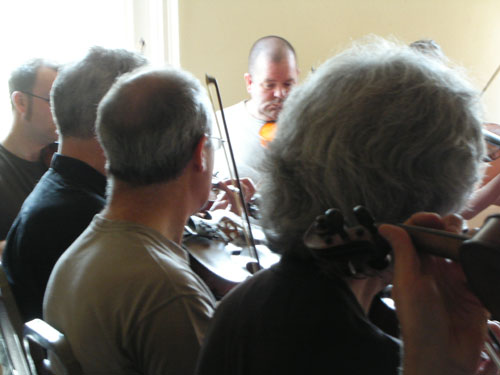 KIF 3016 Tommy-Peoples-fingers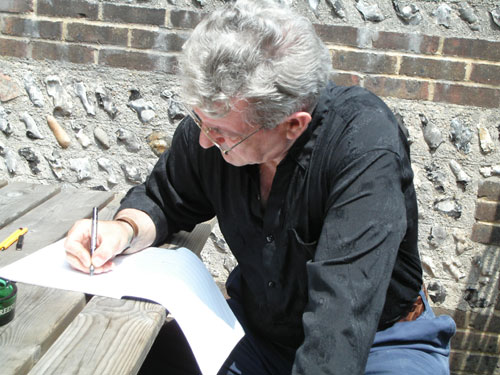 KIF 3021 Tommy-Peoples score-writing
In the evening recitals, as part of the folk club (which included some fascinating pipe work by a local piper Dirk Campbell, on two different Italian pipes), Tommy was again joined by Mary.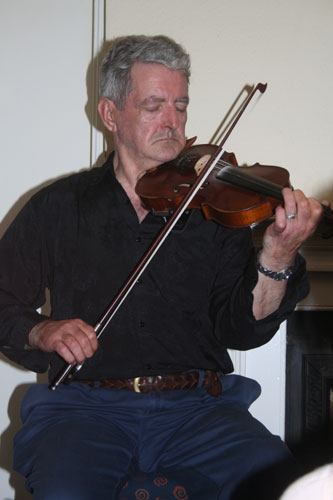 VicSmith 05 tommy
(c) 2007 Vic Smith of Brighton.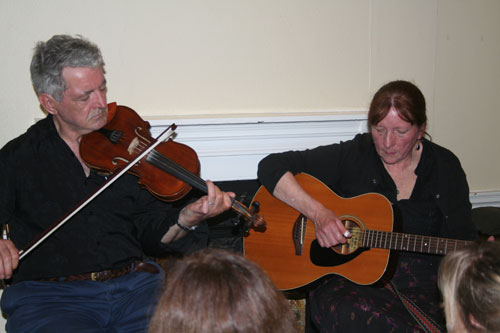 VicSmith 13 tommy_mary
(c) 2007 Vic Smith of Brighton.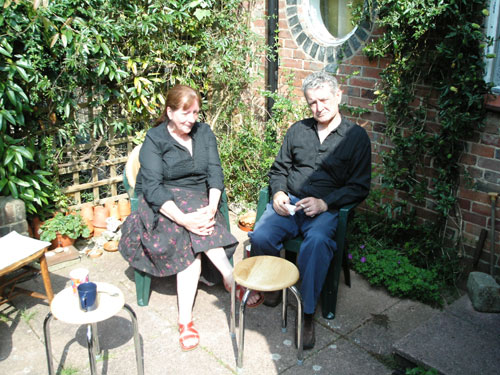 KIF 3024 Mary-McGannon_Tommy-Peoples
Tommy and Mary having a sunny breakfast on Sandra's patio.
Ben Paley - the best fiddler I know of on the South Coast - Appalachian and Swedish fiddle - who was at both the fiddle workshop and the concert, emailed me afterwards : "Beau, Thank you so much for organising Tommy's tour. It really was one of the most inspiring things I've heard ever, I only wish I could convey that to him!"
Valmai writes about the Lewes Arms workshop and concert : "Dear Beau, Many thanks for all the pictures, and above all for bringing Tommy to Lewes. It was unforgettable. I think the workshops were a spiritual experience for all concerned.
.....
If Tommy ever feels like coming back to Lewes we would be honoured and delighted to welcome him here again. Best wishes, So good to hear that it is not only on me that Tommy's playing has this effect. - I passed these emails on to Tommy - Beau.
Sunday 10th Tommy Peoples drove to the Littlebourne Thatched Barn, in Kent, in time to eat a light lunch in the garden of The Anchor Inn, Joined by Lesley, Gordon and myself.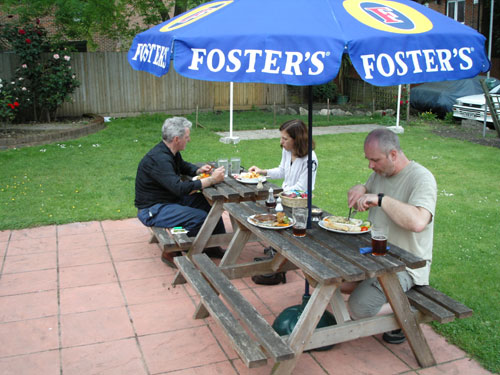 KIF 3026 Tommy-Peoples lunch-at-The-Anchor Littlebourne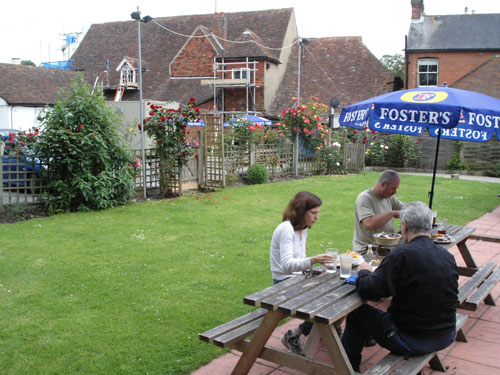 KIF 3027 Tommy-Peoples lunch-at-The-Anchor Littlebourne
There were 15 students at the Littlebourne fiddle workshop - from as far away as Northampton, Wales and Ireland. Tommy commented afterwards that the standard was good. In no small measure this may at least partly be attributed to the fact that a number of the Kentish students were also at Saskia Tomkins' fiddle workshop at the barn, in early April : www.kentfolk.com/gig_reports/2007/2007-04-01to02_Saskia-Tomkins+Steafan-Hannigan/

KIF 3031 fiddle-workshop Littlebourne-Barn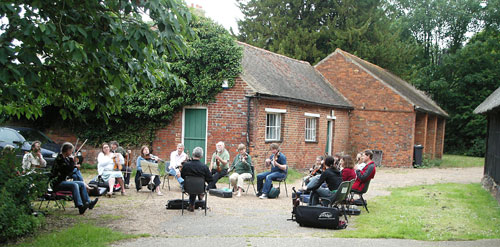 KIF 3032 Workshop Tommy-Peoples
One of the students was Eoghan Neff, (all-Ireland Fleadh Cheoil and Pan-Celtic winner) currently undertaking doctoral research at Cardiff University. Eoghan wites "My research is based on a history of the Irish fiddle, mainly examining issues of ergonomics and improvisation."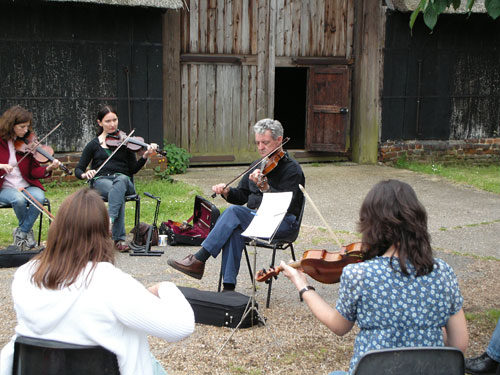 KIF 3032 Workshop Tommy-Peoples_Ramona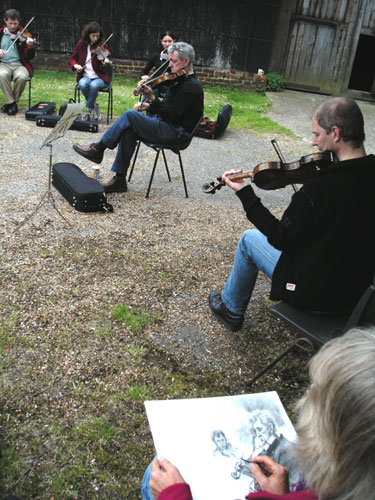 KIF 3039 fiddle-workshop Sarah-Steen-sketching-Tommy-Peoples
Sarah Steen, who drew the musicians in Fiddlers Various 2005 : www.kentfolk.com/photos/2005/2005-06-03-to-06_Fiddlers-Various_Littlebourne/ came back by special invitation to draw Tommy Peoples. Sarah specialises in capturing the musicians during the heat of a performance.
There were just over 150 people at Tommy Peoples' evening concert. Tommy was visibly shaken by the experience of playing in the wonderful barn, but gave an exquisite performance.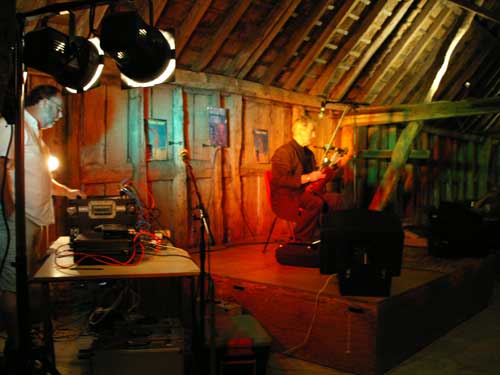 KIF 3041 Tommy-Peoples_Mike-Peters Littlbourne-barn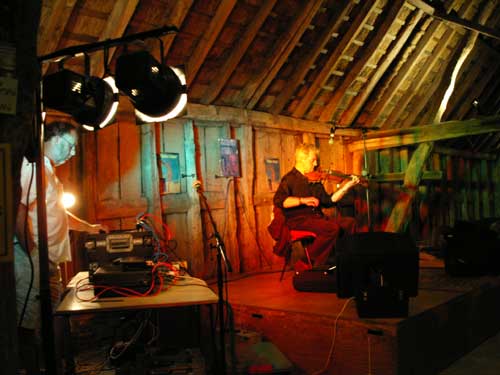 KIF 3051 Tommy-Peoples_Mike-Peters Littlebourne-barn


KIF 3058 Tommy-Peoples_giants_audience Littlebourne-barn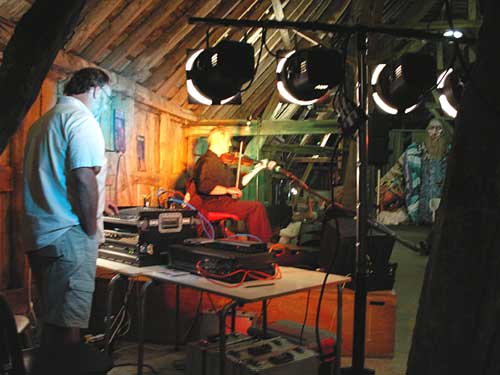 KIF 3060 Tommy-Peoples_Mike-Peters_giant Littlebourne-barn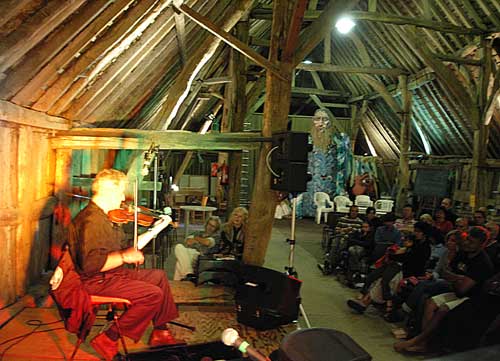 KIF 3065 Tommy-Peoples_Chris_Jacqui_giant_audience Littlebourne-barn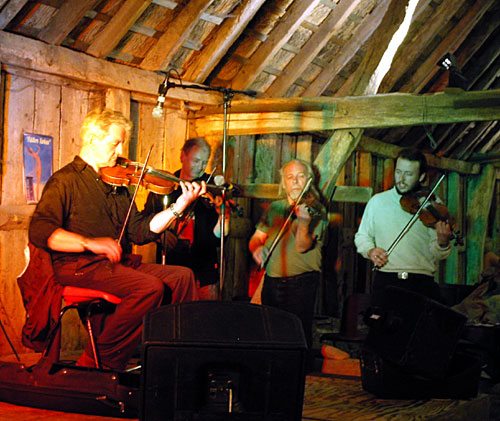 KIF 3069 Tommy-Peoples_students Littlebourne-barn
Tommy Peoples was joined near the start of the second half of the concert by three of the workshop students.

KIF 3074 Tommy-Peoples Littlebourne-Barn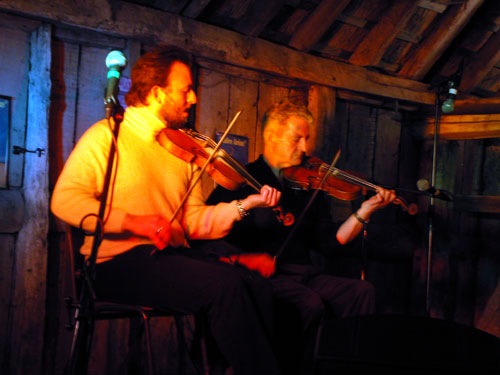 KIF 3105 Tommy-Peoples_Student Littlebourne-barn
Near the end of the concert Eoghan Neff was invited onto the stage by Tommy, and they played two remarkable duets - the first time I have heard Tommy play with a commensurate fiddle player, other than his daughter Siobhan Peoples.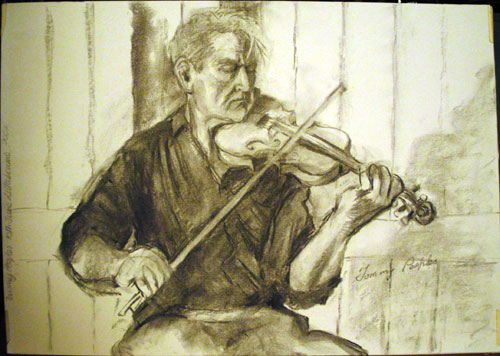 KIF 3108 Tommy-Peoples by Sarah-Steen
Tommy Peoples by Sarah Steen (c) Sarah Steen 2007.
Sarah Steen's rendering of Tommy Peoples, captured during Fiddlers Various 2007, is a quite remarkable likeness.
Local multi-instrumentalist Chris Taylor is a man of few words, but he was moved to write : "Hallo Beau, there are many good fiddle players in Kent [and I've had the privilege of playing gigs with most of them] but last night was a real revelation, or rather a reminder of the power of solo traditional fiddling - thanks to yourself and Viv for staging these events, folk music in Kent would be poorer without your efforts! thanks, Chris & Jacqui " - I also passed this comment on to Tommy - Beau
Tommy also played at The Barge in Gillingham on Monday 11th, - quite a while since the great man has played in a pub, but it made a relaxed evening for all as an end to the tour.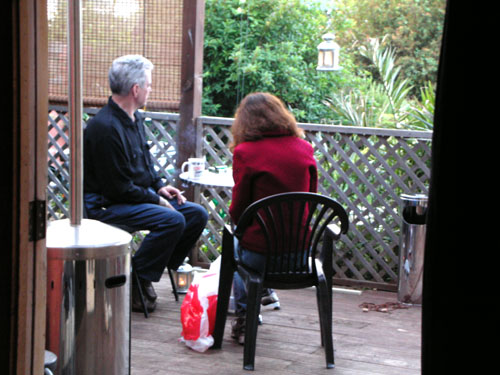 KIF 3111 Tommy + Leslie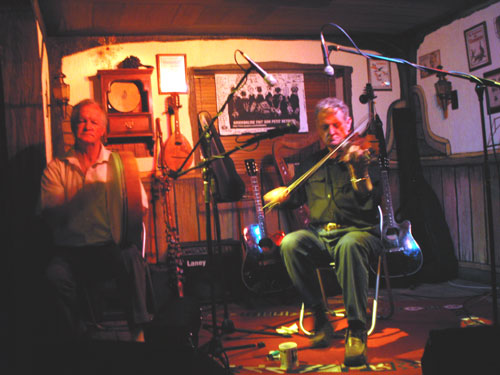 KIF 3119 Tommy Peoples + Bodhran player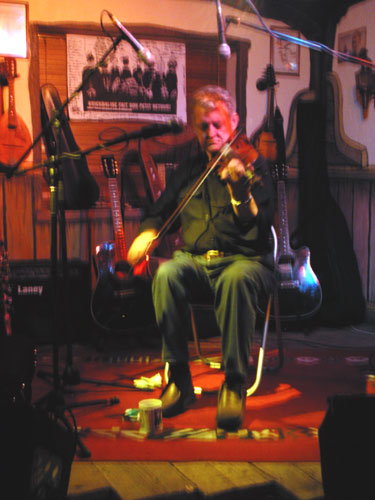 KIF 3122 Tommy-Peoples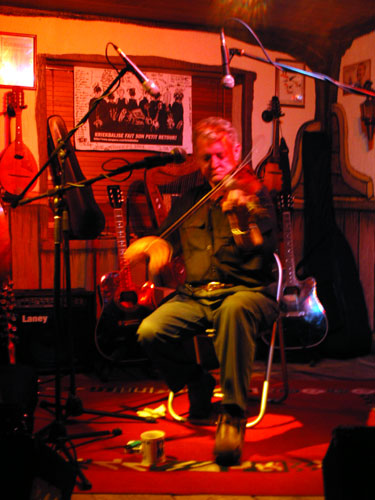 KIF 3124 Tommy-Peoples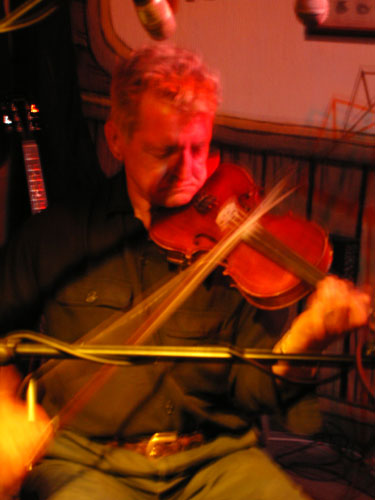 KIF 3125 Tommy-Peoples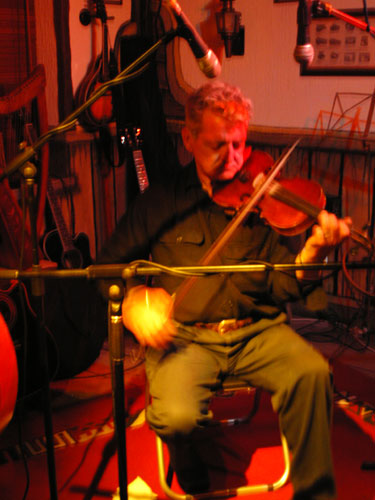 KIF 3127 Tommy-Peoples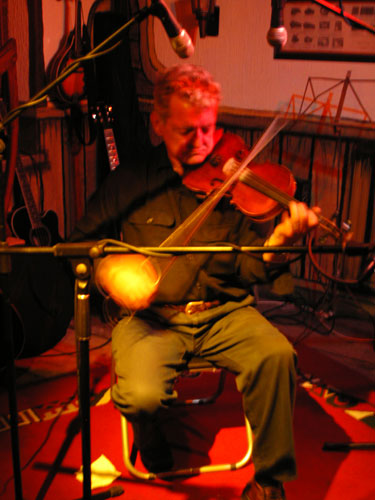 KIF 3130 Tommy-Peoples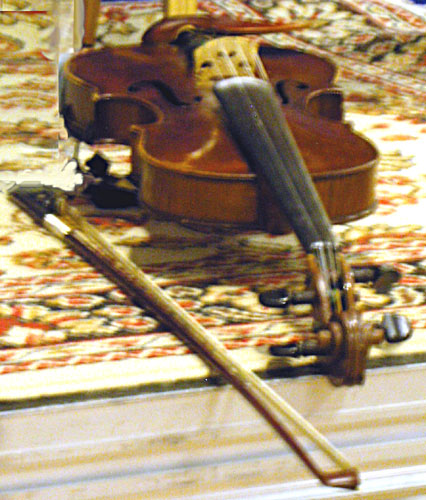 KIF 2960 fiddle
Tommy Peoples' fiddle.
---
....... photos (c) Beau Webber 2007 www.KentFolk.com unless otherwise stated
---