---
KentFolk News

March 2004
---

Sorry that the server that KentFolk is mounted on was down for a few days, all seems to be back and working now.

Brilliant gig on St. Patricks Day at the Broadstairs Pavillion (that I heard about at the last moment, and - sorry I was just too busy to get it onto KF in time)
Legacy, with brilliant fiddler Tim Cotterell and equally good but very different fiddler Ben Paley gave us a superb evening:
Legacy :
Mal Simms: Vocals, Bodhran & Cittern
Paul Burgess: Guitar, Mandolin & Vocals
Tim Cotterell: Fiddle & Vocals
Not there : Clare Sanders: Flute, Vocals & Whistle

Local multi-instrumentalist Tim Edey flew back in from Ireland to do an extended spot, and later joined Legacy for the latter part of the gig.
Most excellent - and it gave me great pleasure to say "Tim, meet Tim" - I have wanted to hear both Tims play together ever since I first heard Legacy at Sweeps last year - and again at Broastairs.
They will not be at B'S this year, back the following year. Do catch them if you are down on the south coast any time:
www.legacyband.co.uk

---
Celtic
Celtic Sessions
If you have been looking for the Wednesday Celtic session at the George Inn, Stone St. this has now terminated again - the session is back in the Anchor Inn in Wingham, until further notice. However there are also now sessions in a number of pubs on different days of the week:
Wednesday:
at the Anchor Inn, Wingham, on the A257 near Canterbury.
Thurday:
This has now moved to the Three Tuns, 16 Tannery St., Faversham;
There is also a mixed session/folk evening in the Kings Head, Hythe.
*** Sunday 4th April there will be a Celtic session in the Compasses, Crundale, as a trial for the new landlady. ***
and she liked it, so :
On the 1st Sunday and 3rd Sunday there is a Celtic session in the Compasses, Sole Street, Crundale. CT4 7ES
There has been some slight tidying done while the pub has been closed, but nothing to spoil the place, and the long table in the back room is still there - the session takes place around it.
On the 2nd Sunday there is the White Horse, Chilham, which is a mixed Blues / Celtic / Country evening;
The last Sunday Celtic session at Deal has no home at the moment.
---
Cajun
Cajun Dances

The next Cajun dance with Cajunologie will be on the 8th May, in the Littlebourne Barn - contact: beau_at_kentfolk_dot_com_dot_

Follow this link for more details and to get your tickets on the web via secure PayPal.
Tickets are also now available from Siesta, 1 Palace St., Canterbury.

Kay Anderson will be at the Littlebourne dance to lead a short dance workshop from 7:30pm, but do go to some of the workshops below if you wish to learn more about Cajun dance.

There is a further dance at St. Peters Church House, Cromwell Road, Whitstable, on the 5th June 2004.
Cajun Dance Workshops
These workshops are led by Kay Anderson, with Wild Turkey (Yves and Chris from Cajunologie) providing the live music.
2:30pm - 4:30pm at St. Peters Church House, Cromwell Road, Whitstable; £3.50, ring 01227 779 178 :
25th April, 2004,
23rd May, 2004.
Also 2:30pm - 4:30pm at Star Hill Function Rooms, Star Hill, Rochester. £3.50, ring Ann on 01634 405 840.
21st March 2004.
---
Jazz

Check the calendar for Jazz - You will find Andy Maclean regularly in the Rose & Crown, Stelling Minnis, on a Wednesday, and the George Inn, Stone St. is now having Jazz on a Sunday, starting 2pm.
The Tiger at Stowting last summer celebrated 20 years of Jazz on a Monday with Ian Shawcross, without a break.
---
---
Folk
Deal Folk Club
The Friday Folk Club in Deal have found a new home, and will be moving at the end of March to the Royal Marines Old Comrades Association (RMA Club) opposite the bandstand on Walmer Green. Our first night will be a Singer's Night on Friday 26th March followed by Guest Davey Slater on 2nd April. The Folk Club would like to thank the staff at the Star and Garter for their help and friendship over the years.

Our programme is as follows:

March
5 Singers Night (Star & Garter)
12 Guest Brian Peters (Star & Garter)
19 Singers Night (Star & Garter)
26th Singers Night (RMA Club)

April
2 Guest Davey Slater (RMA Club)
9 Singers Night (RMA Club)
16 Singers Night (RMA Club)
23 Guests Quicksilver (RMA Club)
30 Singers Night (RMA Club)


---
From: Ray Newsam R_dot_J_dot_Newsam_at_kent_dot_ac_dot_uk

Hi Beau,

If you're interested!

The Cowpats - 'They do to country what BSE did to cows'

Folk, country, etc, sometimes with a ska beat, usually loud and often weirdly spontaneous - good drinking music.

www.cowpats.moonfruit.com

Ray

aka Scrumpy Pat


---
Happy Trails
Trevor Stephenson is not a musician to be constrained to a single genre - his latest venture is "Happy Trails".

He and friends are exploring and developing old and new music of America - they have done a rough cut of a CD and have passed a copy to KentFolk to check out. KentFolk turned up at a gig at the Fox in Ashford, on the 12th of December, to record some more, and take video clips and pictures.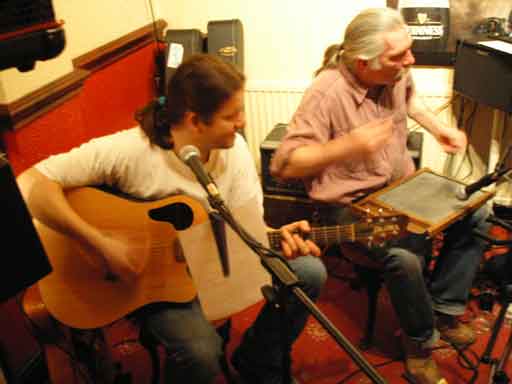 Trevor on an traditional zinc washboard.
Here is a brief taster - if it whets your appetite, the CD launch is on March 13th in the Cafe Venue above the Canterbury Whole Food Shop. - I can not wait !
It was a total sell-out I hear, but here is a map to the venue if you need it
MP3 tasters from the first 2 tracks of the Happy Trails rough cut disk :
| | |
| --- | --- |
| | - Happy Trails - Track 1 - "A man who .." start : 17sec, 0.3 MBytes. |
| | - Happy Trails - Track 2 - "Jenny Mule" 1st half : 1min 46 sec, 1.7 MBytes. |
| | |
| --- | --- |
| This is a long video clip of Happy Trails - "Jenny Mule" - click on it and it should down-load and play. It is 7.3 MBytes, so unless you have broadband there will be a very long delay. | This is a shorter video clip of Happy Trails - "Jenny Mule" - click on it and it should down-load and play. It is 1.8 MBytes |
Video clips from the live gig - the sound has been dubbed in from a separate live recording in the pub - listen to the second MP3 track above to get the a better idea of the quality of the sound on the rough cut CD.
---
From info_at_canterbury-wholefoods_dot_co_dot_uk
From: roger info_at_canterbury-wholefoods_dot_co_dot_uk
Subject: events 2003
UPSTAIRS_at_……CANTERBURY WHOLEFOODS (EVENTS 2004)

March

Sat 13th - - Happy Trails.sold Out!!!

Sat 20th - Wob - 4th Appearance By This Ultra Talented Young Man - Indie/green Day Style.

Fri 26th - Richard Sinclair Band. - Ex Members Of Caravan/Gong/Gentle Giant Etc - Book Early

April

Fri 2nd - Quadlibet - Vocal Harmony/classical/folk.

Sat 10th - Sea Change - Rootsy Acoustic 3 Piece.

Sat 24th - Ian Spink Band - Country Blues/folk.

May

Sat 8th - Mykl - Classical Guitar.

Fri 14th - Hook - (jo Hooks New Band).

Fri 21st - Red Wedding - Joseph Porter (blyth Power)/steve Cooper (ex The Macabees).

Sat 22nd - Atilla The Stockbroker / Support

28th - Longstone. - not July

June

Sat 19th - Katie Bradley.

24th - Ian Spink Band.

July

2nd - Camine.

7th - Burning Cow - Local Indie Band.

Sat 17th - King David (local Blues Feat. Katie Bradley).

28th - Longstone. - no, May

1 - 2 Jewry Lane, Canterbury. (01227) 464623



---
Date: Wed, 31 Dec 2003 13:29:44 -0000
From: Damien Aked damien_at_aked_dot_freeserve_dot_co_dot_uk
(of Dammit!!!)

" Wanted. Female singer / fiddler / keyboard player to join Damien Aked playing original / contemporary music and songs. Tel: 01634
378800."

" Damien is available to' Call', play rhythm guitar and sing songs at ceilidhs, Barn dances etc. tel: 01634 378800."


Thanks Beau.

Damien

---

From: Vic & Tina Smith tinvic_at_globalnet_dot_co_dot_uk
Subject: Five items of Folk News from Sussex - and something from The Gambia
1] FOLK AT THE ROYAL OAK, LEWES, THURSDAYS AT 8pm.
Station Street, Lewes
Enquiries:- (01273) 478124 or 881316
Email tinvic_at_globalnet_dot_co_dot_uk

Here is our programme for the next months:-

Mar 25th * £4.00 * LIAM FARRELL, JOE WHELAN & REG HALL
Three veterans of the London Irish music scene bring you authentic sounds on button accordion, banjo and piano.
Apl 1st * £6.00 * MARTIN CARTHY & NORMA WATERSON
The finest folk singing you will hear anywhere. Our all time top attraction. Apl 8th * £4.00 * JUDY COOK
On tour from the USA. A fine singer of a wide repertoire of American songs. Apl 15th * £4.00 * ARTHUR WATSON, TOM SPIERS & PETE SHEPHEARD Three very fine performers from North-East Scotland come to make their debut for us. Traditional song plus tunes on melodeon, fiddle and whistle Apl 22nd * £4.00 * PETE MORTON
A return visit from this superb singer/songwriter. His recent album "Swarthmoor" is destined to become a classic.
Apl 29th * £5.00 * BAYOU SECO
We are delighted that we have been included in another European tour by the fine band from Silver City, New Mexico. They feature a range of American traditional musics.
May 6th * £4.00 * BING LYLE
A fine singer of traditional songs, a great songwriter and an outstanding musician on accordion and guitar.
May 13th * £4.00 * MICHAEL MARRA
The outstanding singer/pianist/guitarist from the Dundee area brings us a range of his utterly engaging songs.
May 20th * £4.00 * JIM & LYNETTE ELDON
The Bridlington fiddler brings his own songs, and traditional songs and tunes. Lynette is a champion clog dancer.
May 27th * £4.00 * SHIRLEY COLLINS BOOK LAUNCH
Shirley will be on hand to provide an illustrated introduction to "America Over The Water" covering her collecting work in the Southern States, plus a range of songs and tunes.
Jun 3rd * £4.00 * SARA GREY & KIERON MEANS
Both have appeared successfully on their own for us in the past, but there is something very special about the mother and son performing together Jun 10th * £5.00 * DICK GAUGHAN
The compulsive and mesmeric performer from Edinburgh. Dick has been one of the top names on the scene for three decades now.

Other guests in the new year will include:-
Andy Irvine (September 16th)
Karine Polwart (September 23rd)
Jim Woodland (October 7th)
Our website is at www.users.globalnet.co.uk/~tinvic

Those of you with listings/ gig guides etc. are asked kindly to include these dates amongst them.
**********
2] SUSSEX FOLK GUIDE WEBSITE UPDATED
The Sussex Folk Guide Website has been updated with listings of many folk song and dance events in and around Sussex between now and the end of April. There are over 100 folk song and dance events listed on the site. You can find it at whatson.brighton.co.uk/folk
**********
3] THE FOLK DIARY
Most of the listings on the Sussex Folk Guide website are taken from the paper magazine, THE FOLK DIARY Issue no 206 covers the months of April and May. It also has adverts for various folk festivals, folk music record companies, specialist shops, instrument makers and other services. There are also reviews of recent folk music CDs. To obtain copies of this free magazine as it is published, please send SAE's to Vic Smith at the address below. It is also the address to send review copies to. The copy date for the April/May issue will be February 28th. Potential advertisers are also asked to contact Vic for a statement of our advertising rates. ************
5] INSTRUMENTAL & VOCAL WORKSHOPS IN LEWES
Valmai Goodyear - valmaigoodyear_at_aol_dot_com - continues to organise some really useful and popular Saturday daytime instrumental work shops in Lewes. The next ones are:-
Saturday 3rd. April, Kevin Burke, fiddle (though this is sold out!) Saturday 5th June, Gina Le Faux, fiddle
Saturday 3rd July, Frances Wilkins (Solan) concertina
Saturday 4th December. Tom McConville, fiddle
************
AND FROM OUR CONNECTIONS WITH THE GAMBIA:-

JALI SHERRIFO KONTEH
We will be organising the first visit to the U.K. for this great singer and kora player for a month from, roughly 25th September. We are looking to organise a tour mainly in the south of England during that time. We already have the interest of a number of promoters, but anyone who is interested is asked to contact Vic & Tina. We are currently preparing a biography and a demo CD to circulate to potential bookers. For some background on Sherrifo have a look at the website that we maintain for him at
www.users.globalnet.co.uk/~tinvic/sherrifo.htm

BATIKS BY BUBA DRAMMEH
We have been encouraging Buba to use his tremendous talent to move into making individually designed Tee-shirts. We brought a batch of them back from our recent visit to The Gambia and we are expecting to take delivery of a lot more in the next few days. When we have them all, they will be photographed and put up for sale along with a wide range of his batiks on the website at www.users.globalnet.co.uk/~tinvic/buba.htm
+++++++++++++++++++++++
...And if you are ever looking for a good barn dance band, look no further than THE SUSSEX PISTOLS - though you should get in quickly - available dates for 2004 are being snapped up quickly.
Website at
www.users.globalnet.co.uk/~tinvic/pistols.htm

Vic Smith
26 Ferrers Road
LEWES
East Sussex
BN7 1PZ
England

Tel & Fax:- 01273 478124
Email:-
tinvic_at_globalnet_dot_co_dot_uk
folk_at_brighton_dot_co_dot_uk

ROYAL OAK WEBSITE:-
www.users.globalnet.co.uk/~tinvic

SUSSEX FOLK GUIDE WEBSITE:-
whatson.brighton.co.uk/folk

SUSSEX PISTOLS BARN DANCE BAND WEBSITE:-
www.users.globalnet.co.uk/~tinvic/pistols.htm

---
---
Blues
From: Bottleneck Blues blues_at_bottleneckblues_dot_co_dot_uk
Subject: 30th March

Got back last night from The Beauvais Festival in France after Little Toby Walker totally knocked 'em out. Like so many festivals Beauvais (twinned with Maidstone!!) is spread around the town in several different venues & we found ourselves in a place called After Hours ~ an Irish Bar full of French guys called Patricque!!........it was packed (& I mean packed, you could not move)....up first was Kent Duchaine & Toby followed at 11:00pm & gave then 2 hours of some of the best sinagalong blues they had ever heard.........absolutely wonderful....a great audience, they listened to every number & then erupted after each song & wouldn't let him off the stage ~ he could have done a dozen encores but I pulled him off after two.
Toby's been invited back in 2005 to play one of the bigger theatre venues & they also want Geoff Achison & The Souldiggers.
We've made a lot of new friends & Toby sends his thanks to everyone that supported him on this, his second European tour...........he's back in late October to launch his new live album recorded at The
Bottleneck......it'll probably be called ~ ~ ~
Little Toby Walker

Devil's Beating On His Wife Tonight

Live at The Bottleneck

but we'll see!?

What a superb night we had last Friday with The Errol Linton Blues Vibe & Toby ~ some of the newcomers couldn't believe that live music of this standard was available in Kent ~ well they do now! But, onwards & upwards, I haven't got too much time to relax as our next gig is also going to be very special...........
Tuesday 30th March

The Bottleneck Blues Club

_at_

The Roffen, Rochester.....featuring

The Detroit John Idan Band

+

Jon-Alex Mason (USA)

Doors 8:00pm ~ music starts 8:30pm to 11:30pm (ish)
I guess this is another double headline night really, Jon-Alex is a fine acoustic musician from The States on a UK tour & he will be opening for John Idan.

The Detroit John Idan Band is, in all but name, The Yardbirds. This night we have Jim McArty on percussion (founder & current Yardbirder), Top Topham (original Yardbirds guitarist), John Idan (current vocalist & guitarist with The Yardbirds) & Bobby Taylor on bass.
For lovers of virtuosic Detroit/Chicago blues you owe it to yourselves to get to this gig.

I don't do filler acts...I don't do hard rock blues...I don't do rubbish...I only present the very best live roots music I can find...I promise!!

Tables still available for this gig.

John & Dee

www.bottleneckblues.co.uk

FRI 16th APRIL
PAUL LAMB & THE KING SNAKES plus Paul Malsom
The Bottleneck_at_Zaffa, Week Street, Maidstone. ME14 1RH

Arguably Britain's foremost harp led band. Paul cites as his influences Rod Piazza, Kim Wilson, Sonny Terry & Charlie Musselwhite ~ he's played with them all plus Buddy Guy, Junior Wells, Mark Knopfler, Rod Stewart & many, many more. He's gathered around him some exceptional band members too to make this another master-class evening. Find out more about Paul's 50s Chicago/West Coast style blues on www.paullamb.com Paul Malsom opened for Geoff Achison last year at The Mick Jagger Centre, he's a fine finger style guitarist in the Alex D'Grazzi/Michael Hedges mould ~ a bit of Wyndham Hill for you.

TUES 27th APRIL
THE GUY TORTORA BAND (USA) plus JIM CONDIE
The Bottleneck Blues Club & The Roffen, New Road, Rochester. ME1 1DY
Californian ~ Guy Tortora ~ has just finished recording his latest CD at Richard Studholme's Tone Zone Studio & this gig is to launch the album in the UK. He'll have his daughters along on harmony vocals with his excellent band. Jim Condie is a legendary artist who is as well known on electric guitar as acoustic ..tonight he's acoustic. www.jimcondie.co.uk

FRI 14th MAY
THE MATT SCHOFIELD BAND plus WATERMELON SLIM (USA)
The Bottleneck_at_Zaffa, Week Street, Maidstone. ME14 1RH

I've been playing Matt's new CD at the club recently ~ Little Toby Walker loved it!! His fluid jazz/blues will make you want to burn your guitar! The exemplary Jonny Henderson is on keys & Evan Jenkins on drums. Watermelon Slim, from Oklahoma, is on his first ever UK tour ~ he's a Powerhouse artist & one of the most original talents I've heard in a long time ~ tremendous vocal delivery with swinging lap-steel guitar .. he's played/recorded with Champion Jack Dupree, Bonnie Raitt, Robert Cray, John Lee Hooker & Henry Vestine but his style is unique & original. www.watermelonslim.com

TUES 25th MAY
HANS THEESSINK (Holland) plus KEVIN BROWN
The Bottleneck Blues Club & The Roffen, New Road, Rochester. ME1 1DY
Hans needs no introduction he's a giant in the World of acoustic bluesmen. On his umpteenth UK tour & 3rd Bottleneck visit his pedigree includes sessions with divers artists such as The Holmes Brothers, Insingizi Emnyama, Pee Wee Ellis & Charles Brown. www.theessink.com Kevin Brown's beautiful slide playing & skilled song writing will compliment Hans's music perfectly. His Mojave Dust album is still one of my favourites. www.thekevinbrown.com

FRI 18th JUNE
GEOFF ACHISON & The Souldiggers (Australia, Jamaica, Ireland & USA) ~ The UK Souldiggers!!? The Bottleneck_at_Zaffa, Week Street, Maidstone. ME14 1RH

He's back for a storming UK tour taking in many festivals & excellent venues ~ new songs ~ the astonishing artistry of Sam Kelly, Dave Lennox & Dave Clarke plus of course some of the finest guitaring you're ever likely to hear from Geoff. You MUST book early ~ we always sell out. www.geoffachison.com

TUES 29th JUNE
GEOFF ACHISON & THE SOULDIGGERS
The Bottleneck Blues Club & The Roffen, New Road, Rochester. ME1 1DY
For most people once isn't enough so here's your second opportunity to see the incomparable Souldiggers. If you didn't get into the Maidstone gig book for this one NOW. www.geoffachison.com

FRI 23rd JULY
CHRIS SMITHER plus support
The Bottleneck_at_Zaffa, Week Street, Maidstone. ME14 1RH

more information on this gig nearer the time.



& coming soon DELTA MOON, PAUL JONES & DAVE KELLY, BEN ANDREWS, RAG MAMA RAG, CHARLES WALKER & in Oct/Nov LITTLE TOBY WALKER & more We aim to only offer the very best in Blues & Roots with the finest artists from around the World. Please help us to continue doing that come out & bring a friend!
Doors _at_ 8:00pm for over 4 hours of truly World Class music. Late licence, No Smoking area, Waitress Service, you may dine if you wish or just have a good time! Programme may change without notice. Prices may vary. Please check before setting out.

---
---
Morris
From: Amanda Peters fiddleinthesky_at_hotmail_dot_com
Subject: Wolfshead and Vixen Morris dance side

Hello
Wolfshead and Vixen are male and female border morris dance sides based in Rochester in the Medway Towns,Kent.
Both sides dress completely in black and are very gothic looking. We are always on the look out for new dancers and musicians.
Venue is Prison Officers Social Club,Sir Evelyn Road,Rochester. Practices are usually held on Wednesday nights at 7.30pm except the first week of the month when practice takes place on a Tuesday at 8.15pm. Contact Miss A.G.Peters on 01634 308035 or fiddleinthesky_at_hotmail_dot_com for further details.

Thank-you
Miss.A.G.Peters


---
---