---
2012-01-21 - The power of Gypsy Music in Jan.htm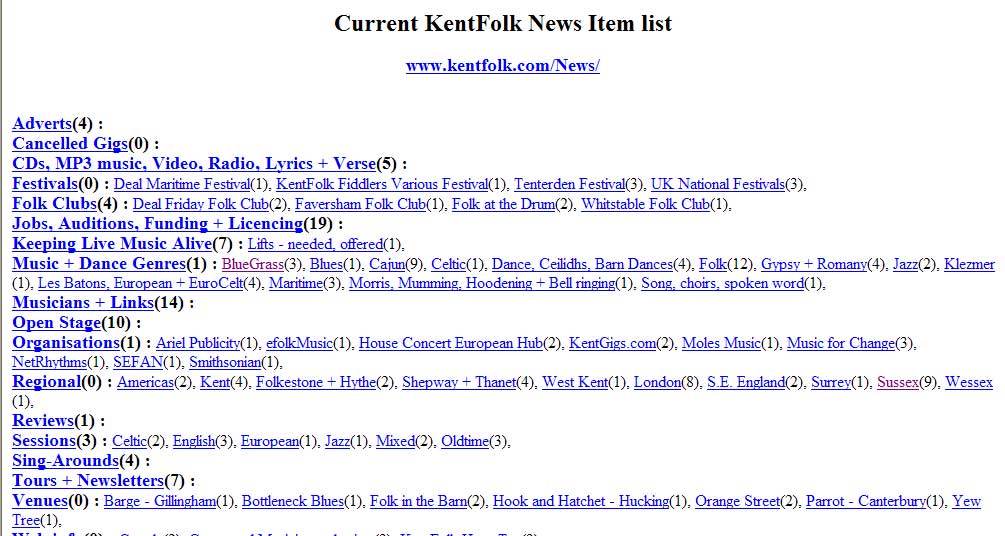 Here is a compact direct-access Contents list for the News pages : www.kentfolk.com/News/contents.html
Total number of Current Month's News Items : 296

---
Hi, the research has had to take first place recently, but still bringing you what news I can.
Hot news goes on the KentFolk FaceBook page, and that is also inserted into this page, just below this section.

---
From Steve and Lynne - Cajunbarn :
Hi everyone,
We've had a lot of feedback about how difficult it would be for people to get to the venue at The Wilmington memorial Hall. Cajunbarners Stuart and Sue suggested a venue in Blackheath - we've checked it out and think that this new venue is ideal, so it's booked for our gig on Saturday 12th. November
With
The Cajun Company
Doors 7.30
The new address is:
Blackheath & Newbridge Working Mens Club, 22 Charlton Road, Blackheath, London SE3 7HG So, the Wilmington venue is CANCELLED AND REPLACED - same date, same time - with the BLACKHEATH venue The new venue has a wooden dance floor, comfortable seating with tables around the sides, and a low stage. There's a cheap bar in our function room so don't bring your own. There is easy on-street parking.
Disabled access via Bellfield Close - let us know if you'd like info. in advance The club is in an area known as The Blackheath Standard - it's a well-known transport hub There are great transport links:
By road - it's just off the A102(M) - take the Sun in the Sands turn off onto the A2 at Blackheath, and it's just a couple of minutes from there By bus - 53,54, 108, 202, 286, 380, 386,422 all stop at The Blackheath Standard. By train - Westcombe Park station 0.6mile or bus 286
- Charlton Station 0.9 mile or buses 486 and 380
- Blackheath Station 1mile or bus 202
By tube - North Greenwich (Jubilee Line) - bus 422
By DLR - Cutty Sark - bus 286
Please pass this on to everyone who doesn't have e-mail
We're hoping this will be our permanent venue. Please contact us with any questions Steve and Lynne - Cajunbarn



---
From Martin Snodin :
Unless you were in Scotland, you wouldn't have been able to catch BBC's Transatlantic Sessions on Thursday (it was broadcast on BBC Scotland only), featuring Iain Morrison among others (Eddie Reader, Sharon Shannon, Alison Krauss, Danny Thompson, etc). But it's on iPlayer for the next 5 days (and you can download to watch for the next 30 days). Well worth watching:
www.bbc.co.uk/iplayer/episode/b016c12b/Transatlantic_Sessions_Series_5_Episode_4/


Also, there are several clips from Iain's recent Chequer Mead show on our YouTube channel:
www.youtube.com/watch?v=fOuQJaD22Tg

www.youtube.com/watch?v=2VSawykbFjs

www.youtube.com/watch?v=M9a64B55m5k
Martin



---
To send info to KentFolk see the KentFolk How-To news items listed below :
Web info
......| KentFolk How-Tos
......| ......| How to send event items for the KentFolk Calendars.html
......| ......| How to send news items for the KentFolk News pages.html
......| ......| Images - emailing efficient formatted announcements with photos, posters and flyer.htm
......| ......| The lazy way to send a news item to KentFolk with embedded images and fancy text.htm
......| ......| Using MS Word to create a KentFolk News item with embedded images and fancy fonts..htm
KentFolk now has a Facebook presence; see :
www.facebook.com/pages/KentFolk/290937071592
and I am flagging some breaking news there.
Check out the KentFolkVideo page on YouTube.
And now the latest KentFolk Facebook News is available right here, see just below :
---
---
Want rapid access to info on the Kentish music scene ?
Add "KentFolk.com for Live Music in Kent" to your iGoogle page.
Click on the [+Google] button to add this KentFolk Gadget to your iGoogle homepage.
It will help take you into the depths of the KentFolk site, hopefully directly to the pages most relevant to your interests.
Scroll down on the gadget to see the latest news items, without even having to leave your iGoogle home page.
For late-breaking News see :
KentFolk Facebook News :
---
Multi-level directories of News :
Do keep sending me items for both the calendar and this news section -
Please see the info at the bottom of the news pages for guidance as to good formats to send me news items for these pages - large .jpg files are not easy to use - and also for suitable formats for event listings for the calendars.
cheers, Beau.
---

Adverts
......| 2011-11-06 - Up To 90 Off Selected Fender Gear.htm
Cancelled Gigs
......| 2011-12-21 - Frimhurst jam.htm
CDs, MP3 music, Video, Radio, Lyrics + Verse
......| 2011-06-22 - A new EP from Kent musician and instrument maker George Stevens.htm
......| 2011-07-05 - Guide Cats for the Blind vol. 5 - Herding Cats.htm
......| 2011-11-02 - fRoots big JanFeb double issue ad deadline.htm
......| 2011-11-03 - Hard Working Class Heroes; Mahler; Fiddle Recordings.htm
......| 2011-11-10 - Irish Music Forever - Win Celtic Tenors album.htm
......| 2011-11-16 - Music and Tax; Video Games; Muhly in Dublin.htm
......| 2011-12-15 - Ry Robson Music-Song WriterNatural SelectionFilthy BlooZeHoundsJamNites httpwww.youtube.com....htm
......| 2011-12-18 - Pete Fyfe review sleeve.htm
......| 2011-12-20 - Pete Fyfe live review.htm
......| Kentish Hops - Book and CD.htm
......| Simon Evans - BBC Radio Kent - listen at any time.html
Festivals
......| Broadstairs Folk Week
......| Canterbury Festival
......| ......| 2011-12-02 - Canterbury Festival 2011 - highlights acknowledging student's success and last call for Bellowhead.htm
......| Deal Festival of Music and the Arts
......| Deal Maritime Festival
......| ......| Deal LifeBoat House shanty singing - 2003 - MP3 downloads available.txt
......| Faversham Hop Festival
......| KentFolk Fiddlers Various Festival
......| Other Kentish Festivals
......| Rochester Sweeps Festival
......| Tenterden Festival
......| ......| 2011-02-06 - TFF News Feb 11.htm
......| ......| 2011-03-04 - TFF has a new website.htm
......| ......| 2012-01-26 - Tenterden Folk Festival NEWS.htm
......| UK National Festivals
......| ......| 2011-12-13 - Sidmouth FolkWeek 2012 - Press Release 13th Dec 2011.htm
......| Wye Fayre
Folk Clubs
......| Admiral Owen Folk Club - Sandwich
......| Crabble Mill Folk Club
......| ......| 2011-11-13 - CRABBLE CORN MILL 25th November.htm
......| ......| 2011-11-30 - CRABBLE CHRISTMAS CRACKER.htm
......| Deal Friday Folk Club
......| ......| 2011-09-16 - Deal FC - Oct+Nov.htm
......| ......| 2011-10-26 - Deal FC - December.htm
......| ......| 2011-11-16 - Deal FC - January.htm
......| Drum Folk Club
......| ......| 2011-02-23 - Drum website - at last.htm
......| ......| 2011-09-16 - Folk at the Drum - Oct+Nov.htm
......| ......| 2011-10-26 - Drum - December.htm
......| ......| 2011-12-21 - FOLK AT THE DRUM (FATD) - 22 29 DEC 11 Fw The Irish Car Rescue - brilliant.htm
......| Egerton Folk Club.htm
......| Faversham Folk Club
......| Monthly_Folk-Club_list.html
......| Tom Thumb Theatre - Margate
......| ......| 2012-01-01 -Gig list.htm
......| Walthamstow Folk Club
......| Whitstable Folk Club
......| ......| 2009-02-11 - Find Whitstable Folk Club on Team.KentFolk.htm
Graphics
Jobs, Auditions, Funding + Licencing
......| 2008-12-29 - The Licensing Act 2003 is destroying live music in Kent.html
......| 2009-01-19 - The Publican - Home - Pubs closing at rate of 39 per week.htm
......| 2009-01-20 - Licensing enquiry - Loss of live music - our ref +++570.txt
......| 2009-07-28 - SCoFFnews Petition to No 10.htm
......| 2009-08-03 - LIVE MUSIC LICENSING.htm
......| 2010-01-05_Consultative-document_exempt_small-live-musicevents.pdf
......| 2010-01-05_Licensing Exemption discussion.txt
......| 2010-01-05_Licensing_Exemption_discussion.html
......| 2010-01-07_Licencing_Exemption_discussion-continued.html
......| GigList_DateCount.pdf
......| Public Entertainment Licensing Act (2003) - prior news items.txt
......| SEFAN 2008-03-24_03 IMPORTANT Certificate of Sponsorship (CoS).htm
......| SEFAN 2009-07-10_03 The Event Safety Guide (The Purple Guide).htm
......| SEFAN 2010-01-29_02 V A Instrument Collection Petition.htm
......| SEFAN 2011-12-19_02 CALL OUT ANNOUNCEMENTS GLEANINGS.htm
......| SEFAN 2011-12-29_02 GLEANINGS and ANNOUNCEMENTS.htm
......| The Licensing Act 2003 is destroying live music in Kent.html
Keeping Live Music Alive
......| 00 - 2009-01-22 - Keeping the Live Music Alive.htm
......| 01 - 2008-12-29 - The Licensing Act 2003 is destroying live music in Kent.html
......| 02 - 2008-12-29 - GigList_DateCount.pdf
......| 19 - SEFAN 2008-12-03_03 actionformusic Form 696 - E Petition.htm
......| 2009-01-20 - Licensing enquiry - Loss of live music - our ref +++570.txt
......| 2009-02-07 - Governments proposed - Code of Practise - for pubs.htm
......| 2009-03-28 - RE How to get more live music in the pubs ! Kentish Gazette, 26th March 2009.htm
......| 2011-01-08 - ANOTHER GOOD LIVE BAND MUSIC VENUE BITES THE DUST.htm
......| 2011-03-27 - Early Day motion and proposed changes to the Licensing Act 2003 - hopeful.htm
......| 2011-03-28 - When booking please bear this in mind.htm
......| 2011-04-18 - PUB CLOSURE RATE SLOWING - BUT STILL SERIOUS.htm
......| 2011-05-19 - NEW CODE OF PRACTICE IS INEFFECTIVE.htm
......| Lifts - needed, offered
......| ......| 2009-02-16 - lift needed - Deal or Dover to the Drum, North Stansted, any Thursday.txt
Music + Dance Genres
......| Americana, BlueGrass + Old Time
......| ......| 2011-10-13 - mailout 13th October.htm
......| ......| 2011-10-23 - Updated listings - Oct Nov Bluegrass Old Time Music.htm
......| ......| 2011-11-01 - Updated Bluegrass Old-Time listings in SE England.htm
......| ......| 2011-11-02 - Bluegrass Old-time music - correctionadditions .htm
......| ......| 2011-11-02 - Canterbury Americana Session Canterbury's Americana session this coming monday....htm
......| ......| 2011-11-03 - Bluegrass Old-Time Music - EXTRA.htm
......| ......| 2011-11-03 - mailout 2nd November.htm
......| ......| 2011-11-10 - mailout 10th November.htm
......| ......| 2011-11-16 - South East England Bluegrass Old-Time Music .htm
......| ......| 2011-11-17 - mailout 17th November.htm
......| ......| 2011-12-01 - mailout 1st December.htm
......| ......| 2011-12-08 - mailout 8th December.htm
......| ......| 2011-12-10 - Grassroots - dates in Hawkhurst cancelled .htm
......| ......| 2011-12-15 - mailout 15th December.htm
......| ......| 2012-01-19 - mailout 19th January.htm
......| ......| SEFAN 2011-11-02_01 EVENTS - Bluegrass and Old Time (2 posts).htm
......| Blues
......| ......| 2011-11-02 - Dave FerraPorch Swing Blues gig list for NovDec.htm
......| Cajun
......| ......| 2011-11-08 - Cajunbarn.htm
......| ......| 2011-11-18 - Bowstring 18th November.htm
......| ......| 2011-12-20 - Bonne année.htm
......| ......| 2011-12-29 - New Years Eve Cajun bash.htm
......| ......| Cajun website and email list.html
......| ......| VENUE CHANGE to BLACKHEATH Cajunbarn.htm
......| Celtic
......| ......| 2011-10-23 - Transatlantic Sessions - Iain Morrison.htm
......| ......| Monthly Session list.html
......| Classical
......| ......| 2011-10-026 - ADVENT CONCERT FOR FAIRBRIDGE 4th NOVEMBER 2011 THE CRYPT Canterbury Cathedral.htm
......| Dance, Ceilidhs, Barn Dances
......| ......| 2011-11-18 - Bowstring 18th November.htm
......| ......| 2011-12-10 - Dancing Holiday Openings and Closures.htm
......| ......| 2011-12-18 - Contrafusion Dance News.htm
......| ......| 2012-01-14 - Big Broadstairs Ceilidh.htm
......| ......| Dance School in Maidstone.htm
......| ......| Kentish Hops - Book and CD - Dances.htm
......| ......| SEFAN 2011-10- 31_01 Dance Round Up November + 2 posts.htm
......| ......| SEFAN 2011-11_07_02 Dance Round Up November - 17th December .htm
......| ......| SEFAN 2011-12- 12_01 DANCE Round Up Dec'2011 - Jan'2012.htm
......| ......| SEFAN 2011-12- 19_01 DANCE Round Up .htm
......| ......| SEFAN 2012-01- 23_01 DANCE Round Up January - March 10th 2012.htm
......| ......| SEFAN 2012-01-17_02 DANCE Round Up January and February 2012.htm
......| Folk
......| ......| 2011-10-06 - Sur Les Docks gig - 4th November - The Blue Pigeons, Worth.htm
......| ......| 2011-11-02 - ASH WINTER FESTIVAL.htm
......| ......| 2011-11-07 - Kazzbar - regular Friday gigs in Hythe.htm
......| ......| 2011-11-10 - MIDWINTER FESTIVAL.htm
......| ......| 2011-11-16 - The Padwell - new venue and some new events.htm
......| ......| 2011-11-18 - Bowstring 18th November.htm
......| ......| 2011-11-29 - Adrian O - NEW YEAR MUSIC.htm
......| ......| 2011-12-01 - Ron Trueman-Border Update.htm
......| ......| 2011-12-04 - Keith Pearson's Coup de Grass.txt
......| ......| 2011-12-19 - Re Folk event for your website.htm
......| ......| 2011-12-21 - Magpies Nest - We are Evolving - News and events.htm
......| ......| 2011-12-28 - Ron Trueman-Border gigs.htm
......| ......| 2011-13-30 _Dave FerraPorch Swing Blues gig list.txt
......| ......| 2012-01-13 - Steve Knightley at the Gulbenkian.htm
......| ......| 2012-01-23 - Bowstring - Whitstable - 27th Jan.htm
......| Gigs from Facebook
......| Gypsy + Romany
......| ......| 2011-10-11 - revised QuecumBar GYPSY SWING gigs and Prestige Concerts Oct Nov Dec 2011.htm
......| ......| 2011-10-26 - LGO Friends Club.htm
......| ......| 2011-11-04_Countdown.htm
......| ......| 2011-11-15 - 3 swinging weekends of Gypsy Swing magic by International marvels!.txt
......| ......| 2011-11-15 - Equator Festival - Gypsy Fiddle Feast with Tatcho Drom in Ashford - Sat Nov 19th.htm
......| ......| 2011-12-05 - Le QuecumBar December January gig list.htm
......| ......| 2011-12-05 - Spring Gypsy Jazz Course - 13-19 May 2012- Nr Congac France - Paul Vernon Chester.htm
......| ......| 2011-12-13 - Xmas greetings.htm
......| ......| 2011-12-15 - GARY POTTER leads DJANGOS BIRTHDAY 2012 with GYPSY meets GADJO.htm
......| ......| 2012-01-16 - ANGELO DEBARRE at Le QuecumBar Battersea - one of the worlds finest Gypsy players Django style.txt
......| ......| 2012-01-26 - Volunteers for LGO's 4th Culture Day.htm
......| ......| London Gypsy Orchestra Musicians.htm
......| Instrumental
......| ......| 2011-01-17 - Joe Broughton' Fiddle School.htm
......| ......| 2012-01-11 - Fiddle Hangout 2 for 1 Players Union Membership Drive.htm
......| Jazz
......| ......| 2011-02-19 - Advert for jazz musicians.htm
......| ......| 2011-09-08 - Jazz at the Phoenix.htm
......| ......| 2011-10-2- - Groovechasers.htm
......| ......| 2011-12-12 - Groovechasers .htm
......| ......| 2011-12-29 - Music at St Julians.htm
......| ......| Hot Club Jazz at St Julians Sevenoaks.htm
......| ......| Open Mic Jazz Singers Night.htm
......| Klezmer
......| ......| 2011-11-07 - London dates in Nov and Dec.htm
......| ......| 2011-11-09 - Winter Klezmer News.htm
......| ......| 2011-12-10 - Winter Spring Klezmer News Plus.htm
......| ......| 2012-01-15 -Klezmer events coming up.htm
......| Les Batons, European + EuroCelt
......| Maritime
......| ......| CONTINUATION OF THE SHANTY CREW.htm
......| ......| Deal LifeBoat House shanty singing - 2003 - MP3 downloads from KentFolk and eFolkMusic.txt
......| ......| The maritime tradition.htm
......| Morris, Mumming, Hoodening + Bell ringing
......| ......| 2009-07-29 - Woodchurch Morris Men.htm
......| Roots + World
......| ......| 2011-11-03 - How to Get More Fans and Sell More Music.htm
......| ......| 2011-12-15 - Free Guide Earning Money as an Indie.htm
......| Song, choirs, spoken word
Musicians + Links
......| 2008-11-05 - Kai Tonjes instruments - New workshop.htm
......| 2008-12-22 - High Weald Ridge - Bluegrass.txt
......| 2008-12-28 - porch swing blues gig list.htm
......| 2009-04-29 - Link Exchange Request.txt
......| 2009-07-29 - Tony Lesurf (drums,Bodhran & backing vocals).htm
......| 2009-09-10 - Alison Rowley - caller, fidlder.htm
......| 2010-02-07 - George Chater.htm
......| 2010-02-23 - Goosebumps.txt
......| 2010-03-08 - Sarah Reed - Gig list and CDs.htm
......| 2010-03-13 - link exchange request - music instruments sites.htm
......| 2010-03-14 - Mike Heron - ISB - Uncut Magazine.htm
......| 2010-04-07 - The Jones Boys.txt
......| 2010-05-04 - Stephen John Morse + Bleak Angel.txt
......| 2011-03-05 - Abbey Capers - Update on the band.htm
......| 2011-05-20 - Adam Franklin - Blues & Ragtime.htm
......| Graham Corbould - singer-songwriter.htm
......| Phil Thorne -acoustic country blues .htm
......| Raglan Road.htm
......| Ratalaz - eFolkMusic.txt
......| Tony Cox - virtuoso guitarist.htm
Open Stage
......| 2009-07-23 - Open Stage info update fron CJ.htm
......| 2010-01-14 - Greenwich - fridaymic.com.htm
......| 2011-01-18 - Remove Sondes Arms entry.htm
......| 2011-11-05 - Open mic - Fridays - Folkestone.htm
......| CJ's open mic nights.txt
......| Jack Pound's Open Stage.txt
......| Monthly Open Stage list.txt
......| Open Mic Nights - Chislehurst - hosted by the Missouri Gutts.htm
......| Open Stage - Phil for cj.htm
......| SEFAN 2008-04-02_02. Open Mike at The Pig Butcher (formanlly The Fireman's).htm
Organisations
......| Ariel Publicity
......| EFDSS
......| efolkMusic
......| ......| 2011-12-28 - Getting More Than Giving Update.htm
......| Equator
......| ......| 2011-10-31 - Equator Festival - Zimbabwean group Black Umfolosi and a special Indian Dinner event with dance in Ashford and Folkestone.htm
......| ......| 2011-11-15 - Equator Festival - Gypsy Fiddle Feast with Tatcho Drom in Ashford - Sat Nov 19th.htm
......| FAE - Folk Arts Network
......| House Concert European Hub
......| ......| 2011-11-08 -Mike Cullison Video-cast audition for your House Concert from his house in Nashville.htm
......| Indie Contact
......| KentGigs.com
......| ......| 2011-11-01 - Events and Gigs Wotson 13th November to 19th November 2011 - Kent E Sussex Gig Guide.htm
......| ......| 2011-11-08 -Events and Gigs Wotson 20th November to 26th November 2011 - Kent E Sussex Gig Guide.htm
......| ......| 2011-11-08 -Listings for November 27th onwards should be submitted to us now.htm
......| ......| 2011-12-12 - Events and Gigs Wotson 25th December to 31st December 2011 - Kent E Sussex Gig Guide.htm
......| ......| 2011-12-20 - Events and Gigs Wotson 1st January to 14th January 2012 - Kent E Sussex Gig Guide.htm
......| ......| 2012-01-27 - Events and Gigs Wotson 29th January to 4th February 2012 - Kent E Sussex Gig Guide.htm
......| ......| 2022-10-25 - Events and Gigs Wotson 6th November to 12th November 2011 - Kent E Sussex Gig Guide.htm
......| Making Music
......| Moles Music
......| Mrs Casey Music
......| Music for Change
......| NetRhythms
......| SCoFF
......| SEFAN
......| ......| SEFAN 2012-01-11_01 Invite to SEFAN's Cross Currents LAUNCH event. SUSSEX.htm
......| ShivaNova
......| Skiddle
......| Smithsonian
......| ......| 2011-12-02 - Happy Birthday Moe! We dusted off your microphone...and it still works!.htm
......| ......| 2011-12-13 - Dispatches from Latin America Free Holiday Shipping.htm
......| VAE - Voluntary Arts England
......| WeGotTickets
......| ......| 2011-11-04 - Red Hot Chili Peppers Nomad Cinema Turner Prize Talks Plaid Ford's Christmas Bonus and more.htm
Regional
......| Americas
......| Essex
......| Europe
......| Hampshire
......| ......| SEFAN 2012-01-26_02 EVENT ( 1 post) HANTS.htm
......| Ireland
......| ......| 2012-01-18 - Ballincollig Winter Music Festival.htm
......| Kent
......| ......| 2009-03-20 - State of play in Canterbury pubs.html
......| ......| 2011-11-01 - Events and Gigs Wotson 13th November to 19th November 2011 - Kent E Sussex Gig Guide.htm
......| ......| 2011-11-08 - Events and Gigs Wotson 20th November to 26th November 2011 - Kent E Sussex Gig Guide.htm
......| ......| 2011-12-12 - Events and Gigs Wotson 25th December to 31st December 2011 - Kent E Sussex Gig Guide.htm
......| ......| 2011-12-20 - Events and Gigs Wotson 1st January to 14th January 2012 - Kent E Sussex Gig Guide.htm
......| ......| 2012-01-17 - Events and Gigs Wotson 29th January to 4th February 2012 - Kent E Sussex Gig Guide.htm
......| ......| 2022-10-25 - Events and Gigs Wotson 6th November to 12th November 2011 - Kent E Sussex Gig Guide.htm
......| ......| Folkestone + Hythe
......| ......| ......| 2011-11-07 - Kazzbar - regular Friday gigs in Hythe.htm
......| ......| ......| Folkestone + Hythe - News + Events.htm
......| ......| Thanet
......| ......| ......| 2012-01-14 - Big Broadstairs Ceilidh.htm
......| ......| West Kent
......| ......| ......| 2011-11-24 - Very Sad News from Pig's Ear.htm
......| ......| ......| West Kent - News + Events.htm
......| London
......| ......| 2011-10-31 - MUSICAL TRADITIONS CLUB WINTER 2011 plus 2012 preview .htm
......| ......| 2011-11-03 - Barge PantoLondon Cabaret Awards.htm
......| ......| 2011-11-04 - Aaron Jonah Lewis and Ed Hicks Wednesday December 7th.htm
......| ......| 2011-11-07 - Klezmer dates in Nov and Dec.htm
......| ......| 2011-11-16 - 3 swinging weekends of Gypsy Swing magic by International marvels!.txt
......| ......| 2011-11-28 - MUSICAL TRADITIONS CLUB WINTER 2011 and 2012 .htm
......| ......| 2011-12-05 - Le QuecumBar December January gig list.htm
......| ......| 2011-12-15 - GARY POTTER leads DJANGOS BIRTHDAY 2012 with GYPSY meets GADJO.htm
......| ......| 2011-12-21 - Magpies Nest - We are Evolving - News and events.htm
......| ......| 2011-12-23 CELLAR UPSTAIRS FOLK CLUB PROGRAMME FOR JANUARY TO JUNE 2012 .htm
......| ......| 2012-01-16 -Le QuecumBar gig list January February 2012.htm
......| ......| 2012-01-18 - News and gigs from the Nest Collective (Magpie's Nest).htm
......| ......| 2012-01-26 - Norwegian folk Afropop ceilidh Gaelic Voices festival and more from the Nest Collective.htm
......| S.E. England
......| ......| SEFAN 2011-11-04_01 EVENTS (3 posts) Kent Sussex.htm
......| ......| SEFAN 2011-11-10_01 EVENTS (3 posts) Surrey Sussex Kent.htm
......| ......| SEFAN 2011-12-12_02 EVENTS (3posts) Kent Sussex.htm
......| ......| SEFAN 2011-12-29_01 EVENTS (4 posts) KENT SUSSEX.htm
......| ......| SEFAN 2012-01-09_02 EVENTS (3 posts) SURREY KENT.htm
......| ......| SEFAN 2012-01-20_01 EVENTS (3 posts) Kent Sussex Surrey.htm
......| ......| SEFAN 2012-01-26_01 EVENTS ( 3posts) Kent Surrey Sussex.htm
......| Scotland
......| Suffolk
......| Surrey
......| ......| SEFAN 2011-11-15_02 EVENT Three Heads in a Well - Hugh Lupton Fri 25th Nov SOLD OUT.htm
......| ......| SEFAN 2011-11-30_01 EVENTS (2 posts) SURREY.htm
......| Sussex
......| ......| 2011-10-23 - Ladies Night - Hailsham Pavilion - Saturday 29th October.htm
......| ......| 2011-11-16 - Folk at the Royal Oak Lewes 27102010.htm
......| ......| 2011-11-17 - Folk at the Royal Oak Lewes 27102010.htm
......| ......| 2011-12-04 - TWELVE ITEMS OF FOLK MUSIC NEWS FROM LEWES FOR DECEMBER.txt
......| ......| 2011-12-11 - Steeleye Span - close to sell-out and Nine new Festival shows.htm
......| ......| 2011-12-15 - Folk at the Royal Oak Lewes 01 12 2011.htm
......| ......| Acoustic Sussex Newsletter 2011-10-13 - our last event.htm
......| ......| SEFAN 2011-11-01_01 EVENTS (3 posts) Sussex.htm
......| ......| SEFAN 2012-01-13_01 EVENTS (2 posts) SUSSEX.htm
......| ......| SEFAN 2012-01-18_01 EVENTS (2 posts) Sussex.htm
......| Wessex
......| ......| 2011-11-01 - Wessex Acoustic Folk Club News.htm
......| ......| 2011-11-15 - wessex acoustic reminder.htm
......| World
Reviews
......| 2010-01-20 - Review of Pete Cooper's - American Old Time Fiddle Tunes.html
Sessions
......| 2009-09-01 - Bluegrass+Old-Time - new session.htm
......| 2010-03-13 - Black Horse session - now ended.htm
......| 2011-09-08 - ACOUSTIC MUSIC SESSION IN LYDD SUN 18th SEPT.htm
......| 2011-12-07 - UPDATING SESSIONS.htm
......| A plea for new players at traditional sessions - particularly younger players.html
......| Americana
......| Bell+Jorrocks - Frittenden
......| ......| 2010-09-20 - Frittenden session info.txt
......| ......| 2011-12-12 - Frittenden stuff.htm
......| ......| 2011-12-20 - Frittenden session Thursday 29th September .htm
......| ......| 2012-01-16 - Old Fashioned Night Out 31st March 2012 .htm
......| Celtic
......| ......| 2011-02-08 - Celtic Sessions - update.htm
......| English
......| ......| Doddington Music Session.htm
......| European
......| ......| 2009-06-12 - New French session Bekesbourne Sunday July 5th.htm
......| Gun and Spitroast
......| ......| 2011-01-21 - session tunes available - Gun Spitroast Horsmonden 26th January.htm
......| ......| 2011-12-11 - Horsmonden Traditional Music Class 14 December.htm
......| Jazz
......| ......| Hot Club Jazz - session - at St Julians Sevenoaks.htm
......| Mixed
......| ......| 2010-08-23 - Tartar Frigate session.htm
......| ......| 2011-03-03 - Music Sessions at the Farriers Arms, Mersham - 2nd Tuesdays .txt
......| ......| Woodshed session - Tune + song list .htm
......| Monthly Session list.html
......| Oldtime
......| ......| 2010-01-06 - Old time session.htm
......| ......| 2010-02-02 - session.htm
......| What tunes do they play at the different sessions.txt
Sing-Arounds
......| 2010-04-04 - Sing-arounds in Maidstone.htm
......| 2010-05-19 - Folk at The Foresters.htm
......| 2011-02-02 - Tenterden Folk Club has moved.htm
......| 2011-04-27 - New singaround near Lenham starting this Thursday 28th April.txt
......| Folk Sing Around at the Chequers, Ash.txt
......| Monthly Sing-Around list.txt
Tours + Newsletters
......| 2011-12-11 - Oysternews - December 2011 January 2012.htm
......| 2011-12-28 - Check out Mike Cullison UK dates January! on Flyinshoes Review.htm
......| 2012-01-22 - Oysternews - February 2012.htm
Venues
......| Anchor Inn - Littlebourne
......| Astor Theatre
......| Barge - Gillingham
......| ......| 2011-05-20 - Barge Monday Folk nights all cancelled.txt
......| ......| 2011-12-28 - Monthly Gig List (January 2012).txt
......| ......| 2012-01-16 - Sally Ironmonger gig.htm
......| ......| 2012-01-26 - Monthly Gig List (February 2012).txt
......| Barnaby Rudge - Broadstairs
......| Beer Cart Arms
......| Belgian Cafe - Ramsgate
......| Bottleneck Blues
......| ......| 2012-01-23 - Bottleneck Blues Club.htm
......| Caseys
......| Central Theatre - Chatham
......| Chambers - Folkestone
......| Cullins Yard
......| Dove at Dargate
......| Evenhill - Littlebourne
......| Folk at the Brook - Chatham
......| Folk in the Barn
......| ......| 2011-12-17 - Merry Christmas from Folk in the Barn.txt
......| ......| Folk in the Barn - Contacts for tickets.txt
......| ......| New Payment option.txt
......| Folkus - Medway
......| Gulbenkian
......| Haywain - Bramling
......| Hook and Hatchet - Hucking
......| HorseBridge - Whitstable
......| Kazzbar- Hythe
......| ......| 2011-11-07 - Kazzbar - regular Friday gigs in Hythe.htm
......| Louis Armstrong - Dover
......| ......| 2012-01-26 - THE LOUIS ARMSTRONG People.htm
......| Man of Kent Alehouse - Rochester
......| Marlow
......| New Venues
......| Orange Street
......| Padwell - Sevenoaks
......| ......| 2011-09-06 - new venue and some new events (hopefully).htm
......| ......| 2011-11-16 - new venue and some more new events.htm
......| Parrot - Canterbury
......| Pizza Express
......| Rose + Crown - Canterbury
......| Soul Cafe Maistone
......| The Chambers - Folkestone
......| Three Mariners at Oare
......| Trinity Theatre
......| Unicorn - Bekesbourne
......| Wrotham Arms - Broadstairs
......| Yew Tree
......| ......| 2010-02-15 - Yew Tree boarded up.htm
Web info
......| 2011-11-17 - Important Changes at concert-diary.com.htm
......| Google
......| ......| Google Advertising.html
......| ......| Google Calendars.html
......| Group and Musician web-sites
......| ......| 2008-12-05 - Cellar Upstairs new website.txt
......| ......| 2010-01-30 - A number of Kentish groups also have web pages on Team-KentFolk - add yours.txt
......| ......| 2010-01-30 - Florida web site, also on Team-KentFolk.txt
......| KentFolk How-Tos
......| ......| How to send event items for the KentFolk Calendars.html
......| ......| How to send news items for the KentFolk News pages.html
......| ......| Images - emailing efficient formatted announcements with photos, posters and flyer.htm
......| ......| The lazy way to send a news item to KentFolk with embedded images and fancy text.htm
......| ......| Using MS Word to create a KentFolk News item with embedded images and fancy fonts..htm
Workshops


---
---
---