From: fRoots [ads_at_frootsmag_dot_com]
Sent: 11 January 2011 11:05
Subject: fRoots March issue: final deadline (A)
Importance: High
Issue 333 of the market leading roots, world music & folk magazine
Winners of the 2010 Womex Award for Professional Excellence . . .
FINAL ARTWORK DEADLINE: Monday 17th January
<![if !vml]>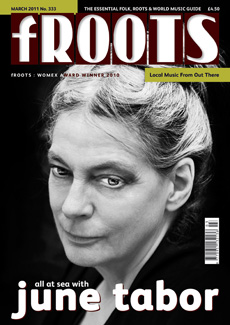 <![endif]>
* FINAL DATE FOR COPY RECEIPT: Monday 17th January!
* To book space, email: ads_at_frootsmag_dot_com or call (+44) (0)20 8340 9651.
* Publication date: 17th February. Reaches UK subscribers from around 12th February.
* On the cover, with a new album imminent, the long-reigning empress of English folk, June Tabor. Plus a whole issue covering the continents worldwide folk & roots delights.
* For festivals, it's time to start promoting your 2011 events. It's looking like another busy year, with folk and world music festivals more attractive than ever to austerity-battered audiences seeking fun alternatives to expensive holidays further afield.
* Now is the time for record labels and distributors to start promoting important 2011 releases.
* Local and international festivals are still finalising their plans for 2011. It's an important last chance to bring artists and their achievements to the attention of event organisers, and vice versa.
* The following issue is our massive traditional annual April one with our huge, definitive UK & European folk, roots & world music festivals supplement. Series discounts available if you start booking now.
THE DIGITAL EDITION & THE STUDENT AUDIENCE
* All adverts that appear in the print edition of fRoots are carried in identical form in the digital edition at no extra cost, including working web links on all adverts of 1/4 page size and above.
* We've made fRoots even more attractive to the huge new young audience for folk, roots & world music with a greatly discounted student subscription deal - 75% off the normal digital rate (and 35% off the paper version)!
* We list information on March events in the news section of this issue.
* Deadline: Tuesday 18th January latest.
(If you'd like to be removed from future emailings, please reply with REMOVE in the email body - leave the subject line intact to help us correctly identify the list source.)
Gina Jennings, Advertising Manager
fRoots Magazine
Local Music From Out There . . .
email: ads_at_frootsmag_dot_com
realmail: fRoots, PO Box 337, London N4 1TW, England
tel: (Int +44) (0)20 8340 9651
fax: (Int +44) (0)20 8348 5626
The first and foremost folk, roots & world music monthly
magazine celebrates its 32nd anniversary in June 2011.
Womex Award 2010 for Professional Excellence
P please consider the environment - do you really need to print this email?