From Smithsonian Folkways: Ola Belle Reed's Appalachian 'Rising Sun Melodies'
<![if !vml]>

<![endif]>Ola Belle Reed (1916-2002) grew up in western North Carolina's Appalachian Mountains. Her story permeates the music and extensive liner notes of 'Rising Sun Melodies,' out August 3rd from Smithsonian Folkways. It is the story of a woman with a big heart and big voice and the wonderful music community she and her family helped create; it is also the story of her family still keeping it going today. The CD contains 19 tracks of Ola Belle's pure, forceful singing and nimble banjo-playing; eight of the tracks are previously unreleased live recordings from the Smithsonian Folklife Festival (from '72 and '76), including her versions of Ralph Stanley's "I Am the Man, Thomas" and Hank Williams's "I Saw The Light."
Click to listen to previews...
---
Freebo: Going Around the "Blockage"
<![if !vml]>

<![endif]>The blockage, in this case, being the failing dinosaur of a record industry. Freebo, acclaimed singer/songwriter and bassist for many years with Bonnie Raitt, John Mayall and many others, is gathering support for his upcoming album sans record label by offering gift packs, starting with a $20 Pre-Order of the new CD all the way up to $10,000 pack that includes a high quality Martin Guitar - signed, lifetime passes to Freebo shows, house concerts, a day in the studio with Freebo, songwriting workshops and more.
Visit his artist page to listen to tracks, watch video, and find out more about being a part of this movement, artists taking creative control of the business of record-making into their own hands. Go, Freebo!
---
Fester Report: Red Clay Ramblers at the Vancouver Island MusicFest
from efolkMusic "CEO" and Red Clay Rambler Chris Frank at the Vancouver Island MusicFest July 9-11, 2010
<![if !vml]>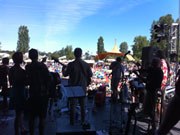 <![endif]>It was sunny, and some would say, hot, on Vancouver Island, but we weren't complaining. Coming from the steam-bath of North Carolina, it was fine, "mighty fine", we might say. We got there two days early to collaborate with several other groups, a special treat from festival director Doug Cox. They called it the Musicfest Collaboration Project: This Road Well Traveled. The concept is to throw the players together, tell us we've got a 90 minute slot to fill on the "Main Stage" three days later, keep us fed and lubricated, and see what happens.
Gently guided (or goaded) by our designated director, the fantastic professor Tony Trishka, we joined Baskery (3 incredible Swedish sisters), Montreal/Toronto's Po' Girls, BC's inventive Rakish Angles, fiddler Jesse Zubot, and "indescribable" throat-singer Tanya Tagaq for an intense round of rehearsals in a hotel conference room. Talk about living it up!!!
Well, we picked and grinned, came up with some tunes for the entire 19-piece ensemble, split into some sub-groups for a<![if !vml]>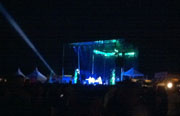 <![endif]> few more, wrote some lyrics, made a set list and and 72 -hours later got up in front of about 4000 of the finest fans I've ever played in front of.
The rest of the fest continued the high-end vibe, great performers and performances, youngsters and "seasoned" veterans, a real music gumbo, Canadian-style. What a blast, a million thanks to the hundreds of volunteers that make it all happen, on Vancouver Island and all over the planet, I'll say it again, head on out this weekend, there's some music being played outdoors, some musicians putting it all out there, for you, and for me. Go for it!
---
Once More, Into the Breach....
"Once more unto the breach, dear friends, once more"
The breach in question is the gap in the wall of the city of Harfleur, which the English army held under siege. Ok, we're not in such dire circumstances as King Henry, but we could use your help. Help keep this nonprofit growing, gain immediate access to our extensive Member MP3 library, a 100-song CD/MP3 sampler (snail-mailed hard goods!), and the satisfaction of supporting the probably less-fortunate.
Please click here to make a donation of any amount, or here to become a supporting member.
efolkMusic is a 501(c)3) nonprofit registered in the USA
New Music:
Jason Heath & the Greedy Souls: The Vain Hope of Horse
<![if !vml]>

<![endif]>Pretty nice sutff, here: Jason Heath and the Greedy Souls couple rough-and-ragged folk and country strains with punk idealism and directness on their debut full-length, The Vain Hope of Horse, resulting in a sound that is as instantly familiar as it is convention-defying. Now out on Sidecho Records/Still Small Recordings, this fourteen-track album is sure to strike a chord with those who keep Springsteen and The Clash side-by-side in their record collections. "The idea is to seek a kind of honesty in everything we do," says Heath, "With everything from the lyrics to the production."
"The Landlord" from their debut album features the moody guitar work of Nels Cline from Wilco, and is a free member download. The song is about "god, knives, neighbors and the things live between the cushions of your soul." More on their artist page, rightcheer...
---
Peter Boles: "Take Care of My Brother"
<![if !vml]>

<![endif]>Peter Boles, a self-professed "blue collar iconoclast," writes music which was molded by his life as an Alaska wilderness gold prospector, oil field roughneck, actor & more. The Ojai Valley, CA. based singer/songwriter is redefining the traditions of the bards of old. Peter chronicles his life of travel & adventure with a poet's touch. He turns his sense of irony upon the plight of truly wonderful people living in this world of wars and Walmarts. Peter offers up a nice track, "Take Care of My Brother", get the free mp3 download from the media player on his artist page. Thanks, Peter!
---
McAdoo Perkins: "Haggard Had It Right"
<![if !vml]>

<![endif]>McAdoo Perkins: Go to their artist page to hear a well-deserved tribute to the great Merle Haggard by songwriting partners Jim Perkins and Mike McAdoo. Perk and Mike met in 1990 when they both worked onstage with the Shoji Tabuchi Show in Branson, Missouri. The musical chemistry was evident from the beginning and the two began writing songs together as well as playing their own shows. Their latest album, The River, is smart, entertaining, country music- more on their artist page
---
Orion Walsh: "The Hitchhiker's Son
<![if !vml]>

<![endif]>Orion Walsh literally is "The Hitchhiker's Son," basing the title of his new album on himself and his father, who used to thumb rides. That's an indicator of the nature of the songs on Walsh's second CD.The Nebraska-based singer-songwriter has a nice combo with folk-rock arrangements and his effectively dry vocal style; his lyrics are sometimes protest/activist and other times revealing and insightful - and sometimes both. The guy listens to a lot of Johnny Cash, and listened well. Preview some tracks on his artist page, get the album through itunes or direct hard copy for $5, well worth it.
---
George Cuthbertson, Guitar Man...
<![if !vml]>
<![endif]>Arizona-based George Cuthbertson has played guitar for over 38 years, playing in a band and performing in weddings in his younger days, but now settling into composing, recording, and sharing his music online. He's got a number of free MP3 tracks available on his artist page (click the red arrow in the media player), fine picking, very nice arrangements. Keep pickin', George!