From: jonathan_dot_p_dot_clarke_at_openreach_dot_co_dot_uk
Sent: 19 June 2006 19:57
Subject: 16th Folk & Blues Festival, Ruskin House Club, Croydon - Kirsty MacColl campaign tribute

Importance: High

Follow Up Flag: Follow up
Due By: 20 June 2006 00:00
Flag Status: Flagged

Attachments: Summer Fest Poster 2006.doc


Dr Beau Webber,

Would it be possible for you to mention the following Folk & Blues Festival to be held on Sat 22nd July 2006 on your Web Site?

I have attached a Word document with details.

This will be our 16th Festival in Ruskin House Club Gardens, Croydon.

There will be a Special tribute to the Singer/Song Writer Kirsty MacColl to which a donation will be made to Her Mother to continue with 'The Justice for Kirsty MacColl Campaign'

We are trying to get as much publicity for this Event as possible and any assistance you are able to give in this respect would be most grateful.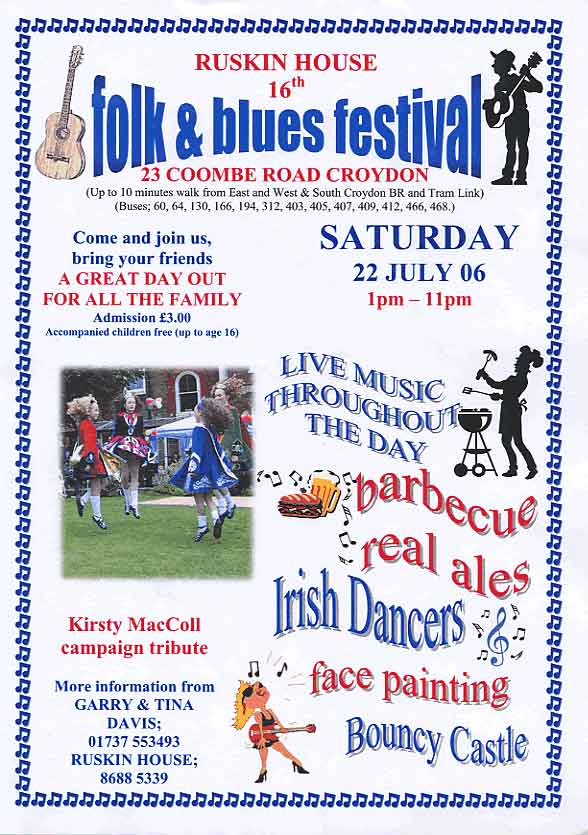 If you need any further information, please contact our Organisers Gary & Tina Davis on 01737 553493 or myself.
<<Summer Fest Poster 2006.doc>>
John Clarke
Ruskin House Club (Assistant Secretary)
(Mob) 07956 813640
mailto:folkandbluesorg_at_hotmail_dot_com
http://www.folkandblues.org/page4.htm