From: Smithsonian Global Sounds [GLOBALSOUND_at_SI-LISTSERV_dot_SI_dot_EDU] on behalf of Toby Dodds [Doddst_at_SI_dot_EDU]
Sent: 03 May 2006 23:31
Subject: New Music and Features from Smithsonian Global Sound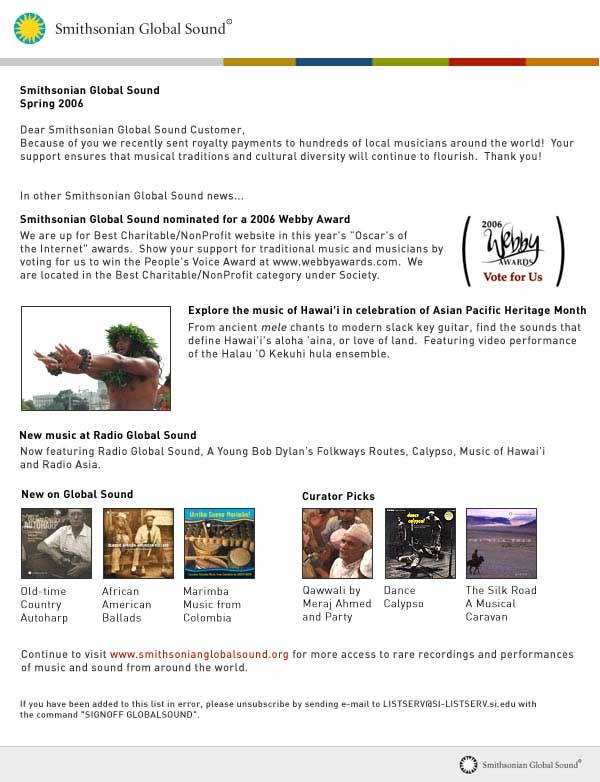 Smithsonian Global Sound
Spring 2006
Dear Smithsonian Global Sound Customer,
Because of you we recently sent royalty payments to hundreds of local musicians around the world! Your support ensures that musical traditions and cultural diversity will continue to flourish. Thank you!
In other Smithsonian Global Sound news...
Smithsonian Global Sound nominated for a 2006 Webby Award
-We are up for Best Charitable/NonProfit website in this year's "Oscar's of the Internet" awards. Show your support for traditional music and musicians by voting for us to win the People's Voice Award at
http://www.webbyawards.com
.
We are located in the Best Charitable/NonProfit category under Society.
Explore the music of Hawai'i in celebration of Asian Pacific Heritage Month
-From ancient mele chants to modern slack key guitar, find the sounds that define Hawai'i's aloha 'aina, or love of land. Featuring video performance of the Halau 'O Kekuhi hula ensemble.
http://www.smithsonianglobalsound.org/cultural_heritage_05.aspx

*New on Smithsonian Global Sound

*Curator Picks